Sylvester Galas was born on 19 September 1912, in Peru, Illinois, to Ladislaus and Mary Wallock Galas. His parents had married on 6 November 1906, in LaSalle, almost six years before Sylvester was born. Prior to Sylvester, they had a son Casimir and a daughter Antoinette. After Sylvester they had two additional daughters, Gertrude and a baby girl who was stillborn.
Sylvester's father Ladislaus was born in Bakowo, Wielkopolskie, Poland and left that country to come to the United States in 1905. Soon after his marriage to Mary, he was working as a steel weigher at the zinc works. By 1910 the family was living in Peru Township on property Ladislaus bought. Ten years later they were living at 102 ½ Eighth street in Peru. By 1920, Ladislaus had left the zinc works and was managing a shoe repair establishment. In 1930, Sylvester was 17 and working at Westclox—a local clock factory.
Within the next ten years, Ladislaus again moved his family after he purchased a home at 22 Eleventh street in Peru. He was still in the shoe repair business and now had his own shop. In October 1937, Sylvester married Adele Sonnenberg. They may have met at Westclox as Adele was also working there as a young woman.
By 1940 the U.S. had imposed a draft, and Sylvester registered on 16 October 1940. His draft registration card notes he was five foot ten inches tall. He weighted 175 pounds and had brown eyes and brown hair. At the time he was living at 1711 Chicago street in Peru. Eventually in 1943, Sylvester was drafted into the Army and assigned to the 34th Infantry Regiment 24th Infantry Division—a regiment code-named Dragon.
The 24th Division battled the Japanese forces throughout the Pacific. In October 1944 the 24th Division participated in the assault on Leyte in the Philippines. During this operation SGT Galas was hit by a bullet and sent to the hospital. He remained there recovering until sometime in November. In January 1945 he contracted malaria and returned to the hospital. He was discharged a month later.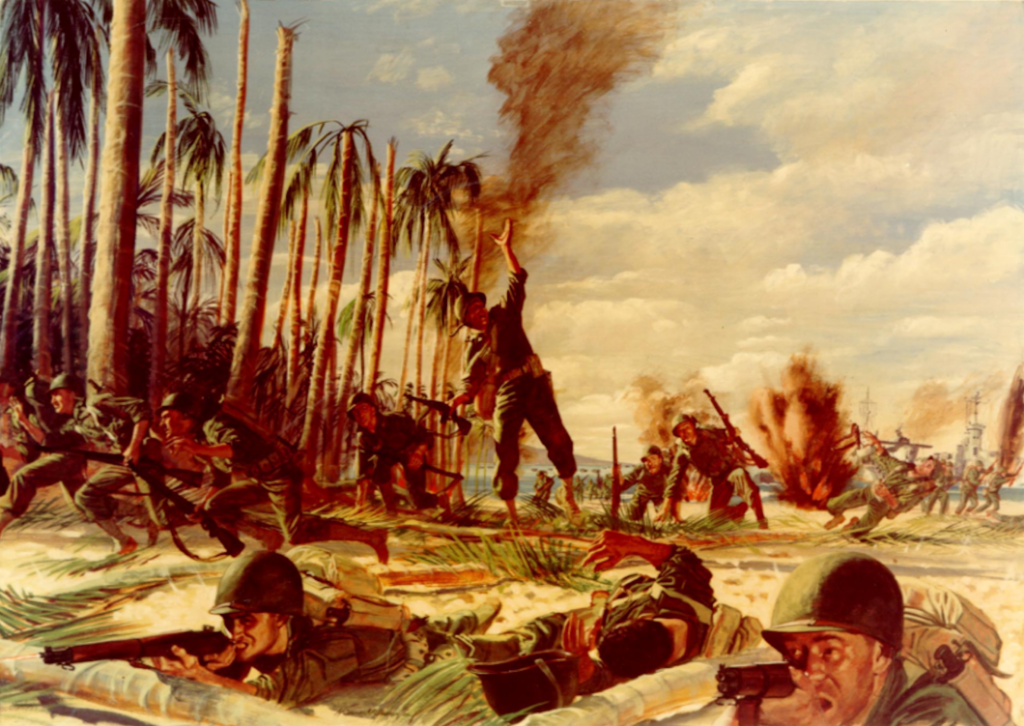 In April, the 34th Infantry Regiment landed on Mindanao and marched to Paidu-Pulangi. From there they sailed to Fort Pikit. Once back on dry land they moved onto Kabakan reaching it on April 22nd. Two days later they were in Saguing. Continuing through the terrain and at time swarms of locusts and Japanese units, the 34th made their way along the road to Davao. They finally caught sight of the ocean again at Davao Gulf on April 28th. SGT Sylvester Galas' regiment suffered many casualties the next day as the men made their way to the city of Davao. Perhaps it was during this attack that a bullet hit Sylvester Galas in his thigh. He made it to the hospital and received a transfusion. But he did not recover, and on 30 April 1945, at age 33, he died of wounds received in battle in the Pacific. The same day across the world, Adolf Hitler committed suicide. SGT Sylvester Galas was buried in the Manila American Cemetery and Memorial in the Philippines, also known as Ft. McKinley, in Block L, Row 10, Grave 111.
Galas received the Purple Heart Medal, with Oak Leaf Cluster, the American Campaign Medal, the World War II Victory Medal, and the Asiatic-Pacific Campaign Medal. After his death his wife Adele moved to live with her sister Virginia Mrowicki whose husband also was killed in action.
This story is part of the Stories Behind the Stars project (see www.storiesbehindthestars.org). This is a national effort of volunteers to write the stories of all 421,000+ of the US WWII fallen saved on Together We Served and Fold3. Can you help write these stories? These stories will be accessible via smartphone app at any war memorial or cemetery.
If you noticed anything erroneous in this profile or have additional information to contribute to it, please email feedback@storiesbehindthestars.org.
SBTSProject/Illinois /LaSalle
SBTS Historian: Pam Broviak
You can also access this story at the following sites:
Source List:
1910 U.S. Census, Ladislaus Galas, Ancestry.
1920 U.S. Census, Walter Galas, Ancestry.
1930 U.S. Census, Ladislaus Galas, Ancestry.
1940 U.S. Census, Ladislaus Galas, Ancestry.
U.S., Headstone and Interment Records for U.S., Military Cemeteries on Foreign Soil, 1942-1949, Sylvester Galas, Ancestry.
"Illinois Deaths and Stillbirths, 1916-1947," Female Galas, FamilySearch.
U.S., World War II Draft Cards Young Men, 1940-1947 Sylvester Galas, Ancestry.
NewsTribune: Web Edition Articles , obit for Adele Galas, GenealogyBank.com.
The Death of Adolf Hitler, National World War 2 Museum.
U.S. WWII Hospital Admission Card Files, 1942-1954, Service No. 36761563, July 1944, Fold3.
U.S. WWII Hospital Admission Card Files, 1942-1954, Service No. 36761563, Sept 1944, Fold3.
U.S. WWII Hospital Admission Card Files, 1942-1954, Service No. 36761563, Oct 1944, Fold3.
U.S. WWII Hospital Admission Card Files, 1942-1954, Service No. 36761563, Jan 1945, Fold3.
U.S. WWII Hospital Admission Card Files, 1942-1954, Service No. 36761563, April 1945, Fold3.
Jan Valtin, "Children of Yesterday, The Twenty-Fourth Infantry Division in World War II," The Battery Press, Nashville, 1988.
https://www.findagrave.com/memorial/56770237/sylvester-galas