Andrew W. Mrowicki was born on 15 July 1918, in LaSalle, Illinois. He was the first child of Andrew Alexander and Loretta Krueger Mrowicki. A few months after Andrew was born, the country was overtaken by a deadly flu pandemic. The risk of Andrew, a baby, contacting this illness must have caused great concern for his family. In addition, the United States was still fighting a war in Europe, and Andrew's father had to leave his family to serve overseas when Andrew was just a small baby. He left the United States with other members of Battery A of the 45th Artillery CAC on 21 October 1918. Larry Dzierzynski, another young man from LaSalle, was also part of his unit and serving as a mechanic.
At some point in the war, PFC Andrew Mrowicki Sr. was reassigned to the 12th Company T.C. of the 14th Grand Division. While he was away his wife and son stayed at 1345 St. Vincent avenue in LaSalle with Loretta's mom and siblings. After the war officially ended with the signing of the Treaty of Versailles on 28 June 1919, Andrew Sr. returned to his country sailing out of France on 3 July 1919, right before his son's first birthday.
But Andrew's father had not been the only member of his family to have served in World War I. Two of Andrew Mrowicki Jr.'s paternal uncles, Stanley and Frank Mrowicki, and two of his maternal uncles, Paul and John Krueger, served. His Uncle John Krueger earned the Purple Heart while in the war. Having at least five World War I veterans in his family may have made quite an impression on young Andrew growing up.
After Andrew Sr. returned from the war, he supported his family by working as a laborer for the local zinc works. He and Loretta had at least four more children including Clarence born in 1920, Raymond born in 1922, Adela born in 1923, and Florence born in 1926.
When Andrew was four years old, his maternal grandmother Josephine Krueger passed away from nephritis at age 66. The next year when Andrew was almost six years old, his paternal grandmother Pauline Krawczyk Mrowicki died at age 60 due to a ruptured appendix. Five years later when Andrew was almost 11, he lost his paternal grandfather to the flu. His paternal grandfather, who died at age 69, had also been named Andrew. And both he and his wife Pauline had immigrated to the United States from Poland in the mid-1880s.
Sometime before 1930, Andrew Mrowicki Sr. bought a home at 611 14th street in Peru. He also took a job working as a switchman for the steam railway. All his children including Andrew attended school. As Andrew entered his teen years, his younger sister Adela developed a heart condition brought on by an earlier illness. She suffered with this for a year and a half and at age 11 she passed away. Sadly, for many parents at the time, this was often a tragic outcome of common childhood diseases because antibiotics were not yet available to treat these illnesses.
By 1940, Andrew was 21 years old and working for Westclox, a local clock company. Possibly it was there he met Virginia Sonnenberg who was 23 years old and also working for Westclox. They were married on 10 August 1940, in Davenport, Iowa. Two months later, on 16 October 1940, Andrew registered for the draft. He had grown to be a tall man standing 6 feet 3 inches and weighing 156 pounds. He had gray eyes and brown hair. He and Virginia were living at 9 Seventh street in Peru. Two years later they welcomed their first child, a son they named Ronald R. Mrowicki.
Andrew Mrowicki was drafted into the U.S. Army some time in 1943 and assigned to the 135th Infantry Regiment in the 34th Division. This unit moved into the fight in Italy in September 1943. During May of 1944 while they were chasing the Germans through Rome, Civitavecchia, Cocina, Rosignano, Leghorn, and Pisa, PVT Andrew W. Mrowicki was wounded in the abdomen by artillery. He was taken to a hospital and his wounds treated. He remained in the hospital for about a month, but did not recover. On 5 June 1944, he passed away at age 25 from wounds he received in battle. The next day—June 6th—the U.S. Army stormed the beaches of Normandy in France.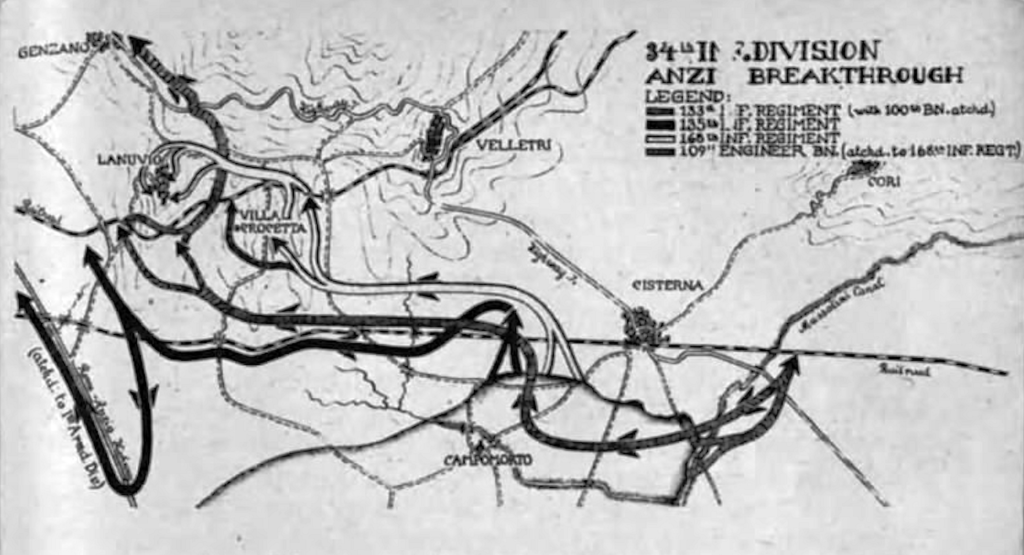 PVT Andrew W. Mrowicki was buried in a temporary grave then later interred in the American Cemetery in Nettuno, Italy, in Block 1, Row 13, Grave 30. He received the Purple Heart Medal, the American Campaign Medal, the World War II Victory Medal, and the Europe/African/Middle Eastern Campaign Medal. Andrew's father—Andrew Mrowicki Sr.—died almost a year later on 5 March 1945, at age 54.
Andrew's wife Virginia was not the only Sonnenberg family member to lose a husband in the war. Andrew's brother-in-law Sylvester Galas, who was married to Virginia's sister Adele, was also killed in action. Both Andrew's wife Virginia and Sylvester's wife Adele never remarried. After each lost their husband, they moved in together at 661 Creve Coeur street in LaSalle with their father and brothers and sister. Virginia's son Ronald also lived in the household. Sylvester and Adele had no children prior to his death. Virginia passed away at age 97 in Peru, Illinois, on 28 October 2013.
This story is part of the Stories Behind the Stars project (see www.storiesbehindthestars.org). This is a national effort of volunteers to write the stories of all 421,000+ of the US WWII fallen saved on Together We Served and Fold3. Can you help write these stories? These stories will be accessible via smartphone app at any war memorial or cemetery.
If you noticed anything erroneous in this profile or have additional information to contribute to it, please email feedback@storiesbehindthestars.org.
SBTSProject/Illinois /LaSalle
SBTS Historian: Pam Broviak
You can also access this story at the following sites:

Source List:

1910 U.S. Census, Josephine Krueger, Ancestry.
1920 U.S. Census, Josephine Krueger, Ancestry.
1920 U.S. Census, Andrew Mrowicki, Ancestry.
1930 U.S. Census, Andrew Mrowicki Sr., Ancestry.
1940 U.S. Census, Andrew Mrowicki, Ancestry.
1940 U.S. Census, Philip Sonnenberg, Ancestry.
1950 U.S. Census, Virginia Mrowicki, Ancestry.
1918 Pandemic Influenza Historic Timeline, CDC website.
The Great War Ends, Delaware Historical & Cultural Affairs.
U.S., Headstone Applications for Military Veterans, 1925-1970, Andrew A. Mrowicki, Ancestry.
U.S., Headstone Applications for Military Veterans, 1925-1970, Paul Krueger, Ancestry.
U.S., Headstone Applications for Military Veterans, 1925-1970, John Krueger, Ancestry.
U.S., Headstone Applications for Military Veterans, 1925-1970, Frank A Mrowicki, Ancestry.
U.S., Headstone Applications for Military Veterans, 1925-1970, Stanley Mrowicki, Ancestry.
U.S., Army Transport Service Arriving and Departing Passenger Lists, 1910-1939, Andrew A. Mrowicki, Ancestry.
U.S., Army Transport Service Arriving and Departing Passenger Lists, 1910-1939, Paul Krueger Jr., Ancestry.
U.S., World War II Draft Cards Young Men, 1940-1947, Andrew Walter Mrowicki, Ancestry.
U.S., Headstone and Interment Records for U.S., Military Cemeteries on Foreign Soil, 1942-1949, Andrew W. Mrowicki, Ancestry.
U.S., World War II and Korean Conflict Veterans Interred Overseas, Andrew W. Mrowicki, Ancestry.
U.S. WWII Hospital Admission Card Files, 1942-1954, Serial No. 36761577, Fold3.
Death Certificate, Andrew Mrowicki, 1929, FamilySearch.
Death Certificate, Pelagia Mrowicki, 1924, FamilySearch.
Death Certificate, Josephine Krueger, 1923, FamilySearch.
Death Certificate, Adele Mrowicki, 1934, FamilySearch.
Iowa, U.S., Marriage Records, 1880-1945, Mrowicki to Sonnenberg, 1940, Ancestry.
135th Infantry, World War II Content Page.
The Story of the 34th Infantry Division, 34th Infantry Division.
Obituary, Virginia Mrowicki, Burgess Funeral Home.
https://www.findagrave.com/memorial/56312502/andrew-w-mrowicki