Anthony Joseph Osenkarski was born on 16 January 1918, in LaSalle Township to Frank and Helen Mankowski Osenkarski. At the time of his birth his parents had been married for 13 years—his father was in his late thirties and working at the zinc works; his mother was in her early thirties and was raising five other children. They had lost a one-year-old boy three years before Anthony was born.
By 1930 when Anthony was 12, his family purchased a different home at 223 Ninth street in LaSalle. His father was still working for the local zinc works. And four of his older siblings who were now adults were working: Frances was 23 and working as a saleslady at a dry goods store, Mary was 22 and working at Westclox—a local clock factory, Stanley was 19 and also working at Westclox, and Paul was 18 and working as a baker at a wholesale bakery. Anthony and his older brother Edward were still in school as were two younger siblings: Joseph and Helen. The youngest, Irene, was five and not yet in school.
In 1933 Anthony was a freshman at LaSalle-Peru Township High School. He attended high school for three years. Then at age 21, Anthony joined the Marines in Chicago on 18 November 1939. A few days after Christmas that year on 29 December 1939, Anthony's younger brother Joseph was killed when a North Shore electric train struck Joseph's work vehicle near Winnetka. Joseph had been a member of the Skokie Valley Civilian Conservation Corps and only 19 years old at the time of his death.
A few months after his brother's death, Anthony was serving in the Marines in San Diego, California. Eventually Anthony was assigned to the same unit as another Marine from LaSalle—Clarence Mallick—except Anthony was in the 2nd rather than the 1st battalion. Both men were with their units when they launched the attack on the Marianna Islands. SGT Anthony Osenkarski's battalion was one of the first to go ashore. By early July the U.S. secured Saipan, but at a cost of 16,500 casualties 5,700 of which were with the 2nd Marine Division and of those, 300 were with the 8th Marines, one of which was SGT Anthony Osenkarski and another CPL Clarence Mallick.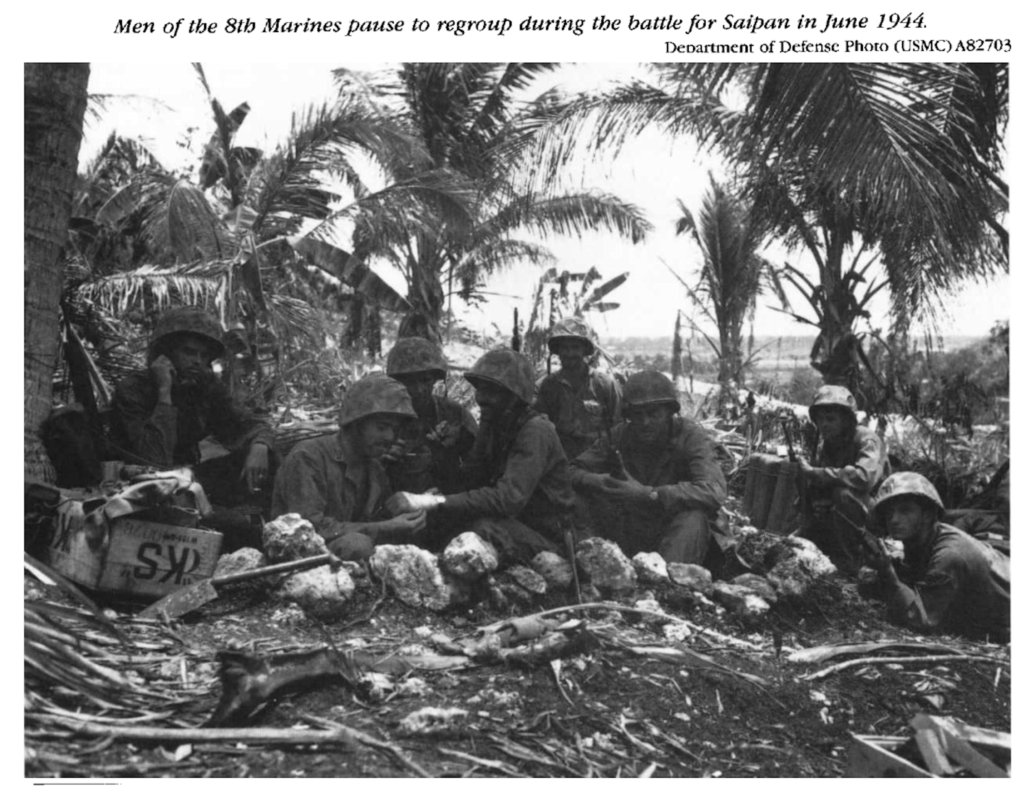 SGT Anthony Osenkarski was reported to be killed in action on 11 July 1944. However, as his body was never recovered, he is memorialized at the Courts of the Missing at the Honolulu Memorial in Hawaii. SGT Anthony Osenkarski earned the following medals for his service: the American Campaign Medal, WW2 Victory Medal, Asiatic-Pacific Campaign Medal, Navy Presidential Unit Citation, Marine Corps Good Conduct Medal, and the American Defense Service Medal.
Anthony's three older brothers also served during the war. His brother Edward served with the U.S. Army for just over five years and was discharged on 3 August 1945. Another brother Paul served in the Navy from 10 July 1943 to 29 October 1945. And finally, his oldest brother Stanley served in the U.S. Army from 13 July 1942 to 19 September 1945.
This story is part of the Stories Behind the Stars project (see www.storiesbehindthestars.org). This is a national effort of volunteers to write the stories of all 421,000+ of the US WWII fallen saved on Together We Served and Fold3. Can you help write these stories? These stories will be accessible via smartphone app at any war memorial or cemetery.
If you noticed anything erroneous in this profile or have additional information to contribute to it, please email feedback@storiesbehindthestars.org.
SBTSProject/Illinois/LaSalle
SBTS Historian: Pam Broviak
You can also access this story at the following sites:
Sources:
Illinois, U.S., Deaths and Stillbirths Index, 1916-1947, Joseph T. Osenkarski, Ancestry.
U.S., Marine Corps Muster Rolls, 1798-1958, Roll 0436, Recruit Depot, Base Troops, MCB, San Diego, Calif., 1 November 1939 to 30 November 1939, no. 801, Anthony J. Osenkarski, Ancestry.
U.S., Headstone and Interment Records for U.S., Military Cemeteries on Foreign Soil, 1942-1949, Anthony J. Osenkarski, Ancestry.
U.S., World War II Navy, Marine Corps, and Coast Guard Casualties, 1941-1945, Anthony Osenkarski, Ancestry.
US Marine Corps Casualty Indexes, Anthony Osenkarski, Fold3.
U.S., Department of Veterans Affairs BIRLS Death File, 1850-2010, Edward F. Osenkarski, Ancestry.
U.S., Department of Veterans Affairs BIRLS Death File, 1850-2010, Paul M. Osenkarski, Ancestry.
U.S., Department of Veterans Affairs BIRLS Death File, 1850-2010, Stanley F. Osenkarski, Ancestry.