Clarence Mallick was born on 18 June 1924, to Vincent and Agnes Sieg Mallick. His parents were married in 1910 in Oglesby and already had four other children by the time Clarence was born. Clarence's paternal grandparents were Nicolaus and Catharina Smolter Mallick—a couple who emigrated to LaSalle County in about 1870 from the Dębowo area in northwest Poland—a small community located about five miles northwest of Nakło. After arriving in the Illinois Valley, the Mallick family took up farming and had at least two more children one of whom was Clarence's father Vincent.
The Mallick farm was located about a mile west of Oglesby on the land lying northwest of the current location of Interchange of I-39 and West Walnut street. A few years before Nickolaus Mallick died in 1918, he was farming at least 160 acres in this area. Because Nickolaus and his wife Catherine died before Clarence was born, he never got to know his grandparents. And it is uncertain if his maternal grandparents ever emigrated from Poland to the U.S.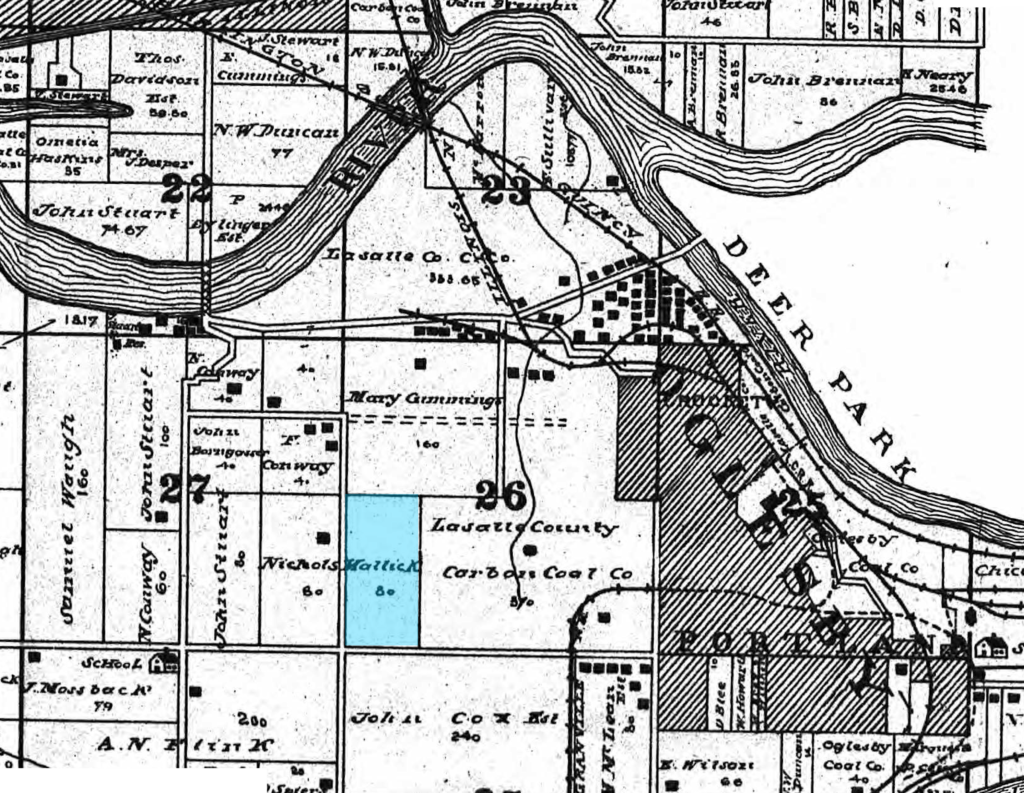 Like his grandparents, Clarence's parents were also farmers. Clarence and his siblings grew up on their farm in LaSalle township and attended the local school. Clarence left school after the eighth grade and eventually began working on the farm. In September of 1937, Clarence and his family lost his brother Vincent who died at age 16.
In 1940 Clarence was one of the last Mallick children remaining at home and working on the farm. His sister Eleanor Girdley who was 10 years older than him was also living in their parent's home with her two young girls. A little over a year later, on 7 December 1941, Japan bombed Pearl Harbor—an act which forced the U.S. into war. Clarence, who may have shared his country's commitment to protect its shores, entered the Marines 21 days later at age 17.
Within the month, Private Mallick was in the Fourth Recruit Battalion at the Marine Barracks on Parris Island in South Carolina. Next, as a Private First Class, he moved to the First Guard Company at the Navy Yard in Philadelphia and then in July 1942 to the Second Guard Company Battalion at the Navy Building in Washington, D.C. Later in the year in October 1942, he volunteered for overseas service and was transferred to the Second Aviation Engineer's Battalion at sea.
After serving a little over a year in the Marines, PFC Mallick was next assigned to a casual and replacement battalion with the First Marine Amphibious Corps. By April of 1943, Clarence had become a Corporal and was moved to Company C in the First Battalion with the 8th Marines in the 2nd Division. Later that year the unit set their sights on taking the group of Gilbert Islands. Troops prepared by participating in amphibious training exercises.
As the end of November approached, operation "Galvanic" was launched with the focus of capturing Tarawa by first attacking Betio, a small island hosting about 5,000 enemy troops. During the operation CPL Mallick waited on the transport ship with his battalion for about 20 hours while the 2nd and 3rd Battalions fought to get to the beaches through the reefs and enemy gunfire. Eventually the 1st Battalion joined in making its way through the reefs to the beaches. By early December, the operation was successful resulting in about 4,700 enemy casualties. But losses were also great among the Marines with 1,100 killed. Reports about the battle note "Tarawa was unlike any previous campaign, because for the first time in history a seaborne assault had been launched against a strongly defended coral atoll."
After Tarawa, CPL Mallick and his unit traveled back to Hawaii to ready for the next objective—the capture of the Marianna Islands beginning with Saipan. In pursuit of this objective, troops left Hawaii in late May 1944 aboard 110 transports. As on Tarawa, the 2nd and 3rd Battalions first went ashore with the 1st following several hours later. While the Marines made progress on the first day capturing an airstrip near the beach and moving troops inland, casualties were high with about 1,300 killed or wounded and over 300 missing. On 17 June 1944, the day before his 20th birthday, as CPL Mallick followed his battalion further inland, he was killed in the heavy fighting.
By early July the U.S. secured Saipan at a cost of 16,500 casualties, 5,700 of which were with the 2nd Marine Division and of those 300 were with the 8th Marines, one of which was CPL Mallick. "The known death toll for the enemy was placed at approximately 23,800."
Within a year after Clarence died, his father Vincent passed away on 21 January 1946 at the age of 71. Near Vincent Mallick's grave in St. Vincent Cemetery in LaSalle there is a headstone placed by the family in memory of their son which reads: "Our son CPL. Clarence F. Mallick U.S.M.C., 1924–1944, killed & buried on the Island of Saipan."
This story is part of the Stories Behind the Stars project (see www.storiesbehindthestars.org). This is a national effort of volunteers to write the stories of all 421,000+ of the US WWII fallen saved on Together We Served and Fold3. Can you help write these stories? These stories will be accessible via smartphone app at any war memorial or cemetery.
If you noticed anything erroneous in this profile or have additional information to contribute to it, please email feedback@storiesbehindthestars.org.
SBTSProject/Illinois/LaSalle
SBTS Historian: Pam Broviak
You can also access this story at the following sites:
Sources:
U.S. Census, 1880, Nicholas Malloch, Ancestry.
U.S. Census, 1900, Nick Mallock, Ancestry.
U.S. Census, 1910, Nicholus Mallick, Ancestry.
U.S. Census, 1930, Vince Mallick, Ancestry.
U.S. Census, 1940, Vincent Mallick, Ancestry.
U.S., Indexed County Land Ownership Maps, 1860-1918, Illinois, LaSalle, 1906
https://www.findagrave.com/memorial/126452239/catherine-mallick
https://www.findagrave.com/memorial/126451338/nicholas-mallick
U.S., Headstone Applications for Military Veterans, 1925-1970, Clarence Francis Mallick, Ancestry.
Illinois, County Marriages, 1810-1940," Vincent Mallick to Agnes Sieg, Familysearch.
A Brief History of the 8th Marines, History and Museums Division, USMC, Washington, D.C.
USMC Lineage of 1st Battalion, 8th Marines.
U.S., Marine Corps Muster Rolls, 1798-1958, 1 January to 31 January 1942, Ancestry.
U.S., Marine Corps Muster Rolls, 1798-1958, 1 April to 30 April 1942, Ancestry.
U.S., Marine Corps Muster Rolls, 1798-1958, 1 July to 31 July 1942, Ancestry.
U.S., Marine Corps Muster Rolls, 1798-1958, 1 October to 31 October 1942, Ancestry.
U.S., Marine Corps Muster Rolls, 1798-1958, 1 January to 21 January 1943, Ancestry.
U.S., Marine Corps Muster Rolls, 1798-1958, 1 April to 30 April 1943, Ancestry.
U.S., Marine Corps Muster Rolls, 1798-1958, 1 October to 31 October 1943, Ancestry.
U.S., Marine Corps Muster Rolls, 1798-1958, 1 January to 31 January 1944, Ancestry.
U.S., Marine Corps Muster Rolls, 1798-1958, 1 April to 30 April 1944, Ancestry.
History of the 8th Marines, USMC.
https://www.findagrave.com/memorial/144547229/clarence-f-mallick