This article is a follow-up to my last post about the FamilySearch.org website and covers some of the remaining features offered by the site. First we'll go through the Family Tree section of the site. You can get to this by clicking the "Family Tree" button on the home page. Doing so takes you to an interactive tree where you can begin adding your family. When you click the prompt in a box to add someone, FamilySearch offers you a template with space to fill in a name and life event such as birth, marriage, or death. You can also add the names of parents and a spouse. However, you might notice the button to submit this is labeled "Find" rather than "Add." This is because the intention of the site is to have one massive family tree that everyone contributes to. So when you add someone in your family, the site will look in its existing tree to see if there is a match and offer you a list of people who might be your ancestor. If you find your relative in that list and choose the match, that person along with all the other data already attached to that person is automatically added to your tree.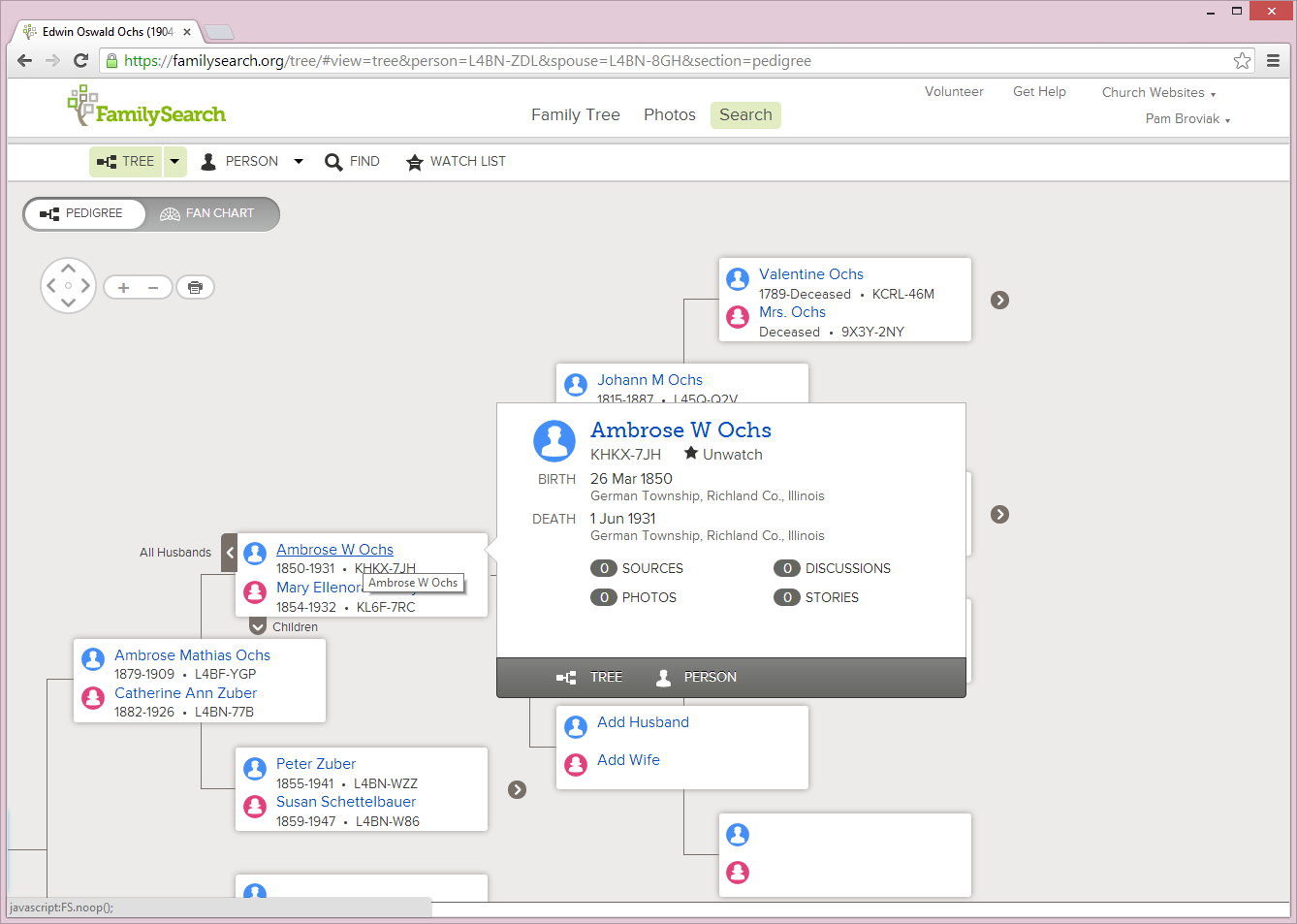 For example when I started building my section of the tree on this site, I was able to add myself and my father. But once I searched for my grandfather, Edwin O. Ochs, I found his information had already been added to the site along with his entire known ancestry back to Valentine Ochs who was born in 1789 in Germany. I wasn't surprised the information was already there because Valentine's descendents are numerous, and the genealogy of the family has been well researched and shared with many family members. In contrast, there had been no entries for my grandmother's maternal ancestors on my mother's side. So I was able to contribute information tracing her ancestry back to my 3X great grandfather, Johann Szwajkowski, who was born in 1804 in Poland.
Check the sources and add your own
My intention in creating a family tree on this site has not been to use this as my "official" family tree because the site allows anyone to edit any person added to or already found on the site. This prevents me from keeping track of exactly what information is added to an ancestor and ensuring it is backed by a good source. So instead I use this site as a way to discover unknown ancestors or leads I might not otherwise find. If you decide to use the site for a similar purpose, the key is to check out the sources of any information you use from the FamilySearch tree before you actually add it to your own tree that you have set up with your own software package.
To check a source of information in the FamilySearch tree, just click a person's name to see if any sources have been attached. Within my own family tree, I have noticed there were not too many sources in the data that I added from the existing FamilySearch database. So at this point I would be very careful about using any of the information I found there that differed from my own research unless I could verify it with sources. If I do change or add information on their site for an ancestor I found in their database, I do attach a source so people can see where I got that information and why I changed it.
Taking it offline
Long before the Internet, genealogists relied on accessing the records held by the Church of Jesus Christ of Latter-day Saints through the organization's Family History Centers. So if records you need have not yet been posted online, you can still view them by requesting the microfilm holding this information. The LDS Church will then send the microfilm to the Family History Center of your choice. When you are notified the microfilm has arrived, you can visit the Center when it is open and view the film. Because a whole article can be written on the Family History Centers, I'll only focus here on how the online site can help you get this microfilm.
Using FamilySearch.org to order microfilm
To find and order the microfilm you need, choose the "Search" button on the FamilySearch.org website. This takes you to the page we covered in the last article. But instead of putting in our information like we did before to find our relative, this time we are going to choose "Catalog" from the menu bar. This will bring you to a page where you can type in the name of a place where you believe your ancestors lived. As you start typing, several options will show up. You can either keep typing or move down to select one of the suggestions.
For example, I started typing in "Stobierna" which is the birthplace of some of my husband's ancestors. Two options showed up, and knowing Stobierna is near Rzeszów, I chose the suggestion with that location. This brought me to a results page showing there are two church records for Stobierna. Here is one of the links shown:
Ksiegi metrykalne, 1784-1867, Kosciol rzymsko-katolicki. Parafja Stobierna (Rzeszow)
So by choosing that link, I am taken to a page showing the available microfilm. It looks like there are birth, marriage, and death records available in two microfilms.
Akta urodzeń, małżeństw, zgonów 1784-1837, Family History Library INTL Film, 766051
Akta urodzeń, zgonów 1831-1856 Akta małżenstw 1834-1867, Family History Library INTL Film, 766052
By clicking the number of the microfilm on the site, I am taken to a page where I can order the film. There are short term loans for 90-days which cost $7.50 and extended term loans for $18.75. Once I make my selection and pay for the loan, the Church begins the process of shipping the microfilm to the Family History Center I chose. After they alert me through email when it has arrived, I can go to the Center and view the microfilm. I have used this method for several branches of families I research and could not have found the information any other way at this time.
Paying it forward
The last feature on the FamilySearch site I will cover is the indexing section. You can access the indexing page by clicking the "Indexing" button on the home page. Indexing is necessary because each record offered online is most valuable if it can be searched by name. But to build that capability, someone has to perform indexing – the process of going through each record and transcribing the names. So FamilySearch has offered genealogists the opportunity to provide that indexing service which helps others in their research and allows those indexing to become more familiar with family records. According to their site, there are 118,055 active volunteers who have transcribed 1,045,371,441 records to date.
I have worked on indexing when I get time. What I like about it is that I get to help contribute to the genealogy community, and I am able to see records I might not otherwise become familiar with in my own research. I also am able to participate because the number of records assigned in a group is small and the process can be done at any time in increments. So if I only have 15 minutes, I can work on a few records then come back at a later time to finish up the group I have been working on.
There are a few other features on FamilySearch like a blog, help center, a volunteer page, and a wiki. And you could spend days just exploring it all, but for now, there are ancestors to find…