In an earlier post I brought FamilySearch as one site offering cloud-based family tree services to genealogists. But that is only one aspect of what FamilySearch offers. So in this article, I'm going to share a few of the other features and benefits you'll find on the site. Then, the rest of the services will be discussed in the next post or two.
Before I begin, I will preface this information by saying FamilySearch has been in constant change over the last year or so as they roll out new services. Because of this, what you see below might change again at some point, but overall the basic information should still apply. The image shows a screenshot of the current format of the FamilySearch home page:
Background of the FamilySearch Website
While you are probably anxious to get started on finding out about all the genealogy goodness on FamilySearch, I am going to take a moment to share a quick background of the site. I believe this is important because as you continue in your research you might, like many of the rest of us, realize how much of what you find depends on the work done by others. And the organization behind FamilySearch, The Church of Jesus Christ of Latter-day Saints (LDS), has been one of the most significant contributors of family history information. It's really quite amazing what they have accomplished through the years, and if you are not familiar with the Mormon religion, you might start to wonder why a church would put this much effort into genealogy.
The underlying reason goes back to one of the foundation values of their religion – family history. Mormons believe the family relationship can continue after death, but only if families are sealed together through a ceremony held in one of their temples. So church members trace their ancestry to ensure they have identified everyone in their family who needs to be included in the sealing. Because it is necessary to identify ancestors many generations back, church members rely on research of family history documents to build their tree. To help their members in their research, the Church actively collects, indexes, and provides documents online and in many facilities throughout the world. Fortunately for genealogists of all religions, the Church allows anyone to access their documents and facilities.
FamilySearch, originally established in 1894 as the Genealogical Society of Utah is, according to their website, "an incorporated, nonprofit educational institution entirely funded by The Church of Jesus Christ of Latter-day Saints." In 1999, the organization launched the FamilySearch online site to make genealogical records easily available online to anyone in the world.
Visiting the site
The first thing you will want to do when you visit the site is to sign up for an account. There is no cost to create this account or to use any of the online services. While you can search the site without an account, in the end, I've found it best to have one because it allows you to save and share records or attach them to a tree. You will also need an account if you want to make use of the family tree feature.
To create your account, just click the words "Sign in." If you don't already have an account, this will take you to a page where you will see a button with the words "Create an Account." Just click that button and fill out the information. Then click the final "Create an Account" button, and you will be sent an activation email. Go to your email, click the activation email from FamilySearch, and you can sign into your account next time you are on the site.
Searching the site
To look for records on the site, just click the button labled "Search." This will take you to a screen that should look similar to the image shown.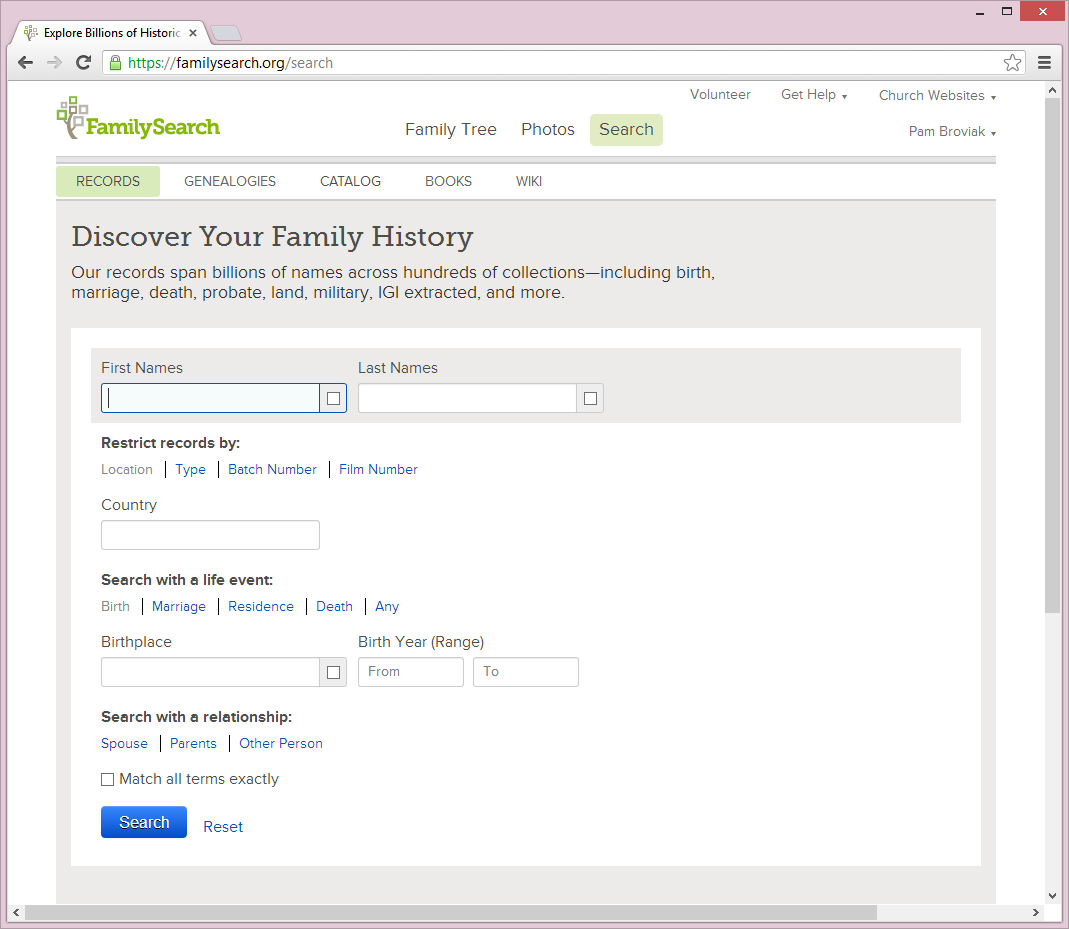 Here you can type in the name of the person in your family you want to research. You can include additional search terms such as a country and birth/marriage/death/residence information to further restrict the results. Usually I start with only a name because you will see that you can always add these other items on the results page. If I get only a few results, I don't bother further restricting the seach because it is easy to go through all the records. But if I get many results, I will then add in other details to weed out people who I know are not related.
Here's an example of how I would go through a search for my great-great grandfather, Peter Zuber. If I just put in his name and search, the site finds over 5,000 records from all over the world. Because all of these are not relevant and are too numerous in number to browse through, I need to limit the search. I know Peter was in Illinois throughout his entire life, and I know the range of dates in which he lived. So I will add these on the left of the results page and hit the search button again. (You can click the image in the article to get a larger view.) This brings the results down to 126 – a much more reasonable number for me to browse through. And because I know Peter never lived in Chicago, I can ignore all the entries related to Cook County.
As you scroll down the page, you will see on the left side there is a listing of collections. By clicking specific collections you can also limit your results to only show records related to the census, birth, marriage, death, or many other specific types of documents.
Searching specific collections
FamilySearch also allows you to search for someone within a specific collection. Rather than beginning with your ancestor's name, you would instead go to the FamilySearch Collection list at https://familysearch.org/search/collection/list. From here you can choose the record you want to search within. There are also filters you can click on the left side to limit collections by type, date, location, or only records with images.
For example, if I wanted to search for Peter Zuber within a specific collection, I would begin by clicking "United States" then "Illinois." From here, I would browse the collections to see which he is most likely to be in. Currently there are 22 collections in Illinois available. Some have been indexed so if I access that collection, all I have to do is type in his name to see if there is a record there for him. Other records have not yet been indexed so for those, I would need to browse through the images to see if I could find him on my own.
From the list of collections, I will choose the Illinois Deaths and Stillbirths, 1916-1947 set of records. Fortunately this one has been indexed, and a search for Peter Zuber yields 17 results. I know he is from the Olney, Illinois, area so I can click the entry showing that location. While there is no image, the transcription of the record gives me his birthdate and place, his father's name and birth place, his profession, and burial date and place. There is also information I can use to try to get an actual copy of the death record.
The collection search feature has been particularly beneficial to me. I was able to find the church records for my birthfamily from a little town in Hungary/Slovakia. This allowed me to take that line back into the early 1800s and opened up other family names in my ancestry. I also like the ability to browse all the images to see the names of other people in their community.
Another benefit of both the individual and collection search features is the ability to save a record to a "source box" or attach it to the family tree. FamilySearch has also added social media functions under a "Share" link on the site so that you can share a record through Facebook, Twitter, Google+, or email.
In the next post, I will go through the family tree feature on FamilySearch. In the meantime, if you want to learn more about the site, you can visit the Family Search Getting Started page.