The big win for me this weekend was finding the naturalization record (and attached photo) for my great-grandmother, Jozefa Lisowska. Because I was adopted and this is my birth family, I don't have many photos from either my birth father or birth mother's side. Fortunately I was able to spend time with my birth family, including Jozefa's daughter and my grandmother, Stella. But while they were generous with stories and photos, I don't think they had any of Jozefa. But now I have the one on her naturalization record!
So not only was I able to obtain all the standard information about her family and date of immigration, but I was able to see her!
Here is the page with her photo: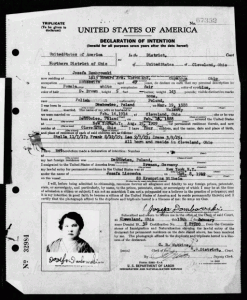 As an aside, I was able to find this because Footnote.com was offering half off for subscriptions if you are an Ancestry.com subscriber. Although I hated to have to spend more money on subscriptions, I have to admit it was well worth it just to get this record!