Anthony PIraino was born on 15 January 1921, in Lost Springs, Wyoming, to Gaetano and Rose Falica Piraino. He was the couple's sixth child. Anthony's father, Gaetano, grew up in Alcara, Italy, and left in 1903 for the United States when he was in his early 20s. Anthony's mother, Rose arrived in the United States in the late 1890s. Gaetano and Rose met in Peru, Illinois, in the early 1900s and were married on 14 April 1907.
At the time of Anthony's birth, his family was living and farming in Lost Springs in Wyoming on property they owned. Anthony had three older brothers Guy, Vince, and Joseph and two older sisters Josephine and Geraldine. Sometime after Anthony's birth, the family moved to LaSalle, Illinois, and purchased a home on 25th street. By 1930 Anthony had three younger sisters Rose, Marianne, and Minnie, and a younger brother Frank. Anthony's father was supporting his family by working as a laborer at a local factory.
In 1940 at age 20, Anthony was shining shoes at a hat shop and living with his parents and siblings in LaSalle. Two years later while still living at home, he registered for the draft on 16 February 1942. At 21 years old he stood 5 feet 7 ½ inches tall weighed 158 pounds with hazel eyes and brown hair. He noted on his registration that he had a "Little blue mark on back (spine)."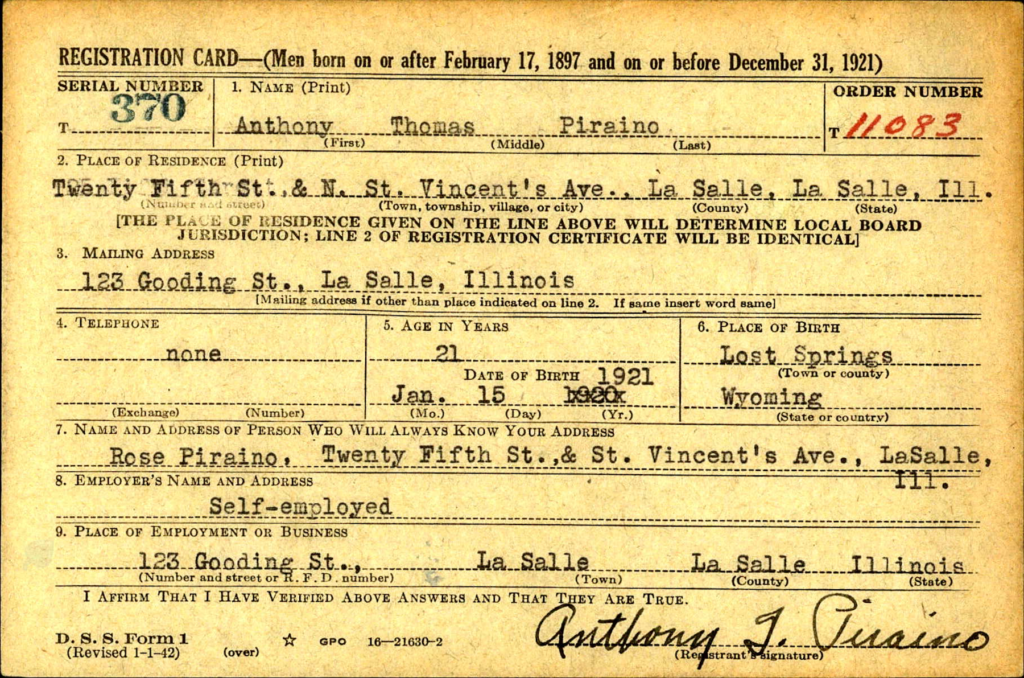 Within eight months of registering for the draft, the U.S. called Anthony into service. He enlisted on 19 October 1942. Based on his enlistment, Anthony appears to have been attending college perhaps in Milwaukee. His occupation was noted as bartender. Once in the service Anthony was eventually assigned to the 95th Troop Carrier Squadron in the 440 Troop Carrier Group of the Army Air Corps. At some point Anthony married Irene Klimek who lived with her parents at 1372 Argyle in LaSalle while Anthony was serving his country.
By the end of 1944, Anthony had risen to the rank of Staff Sergeant and was working as a radio operator. It's not known if he was able to make it back home to witness the birth of his son Dennis Anthony PIraino on 7 November 1944.
Two days after Christmas in 1944, Staff Sergeant Anthony Piraino was sent on a glider tow mission to Bastogne in Belgium. He was part of a five-member crew which took off from an air base in France. Their C-47A (Serial No. 42-100904) plane was piloted by Captain Wilton C. Smith. During their flight they were hit, and the pilot ordered everyone to parachute out. Anthony was in the rear of the plane and based on interviews it was thought he as well as some of the other crew members did not have time to get their parachutes on. The plane's navigator, First Lieutenant Michael Whitfield, managed to parachute out and was captured and taken prisoner after reaching the ground. The other four members of the crew including Staff Sergeant Anthony Piraino were killed in action.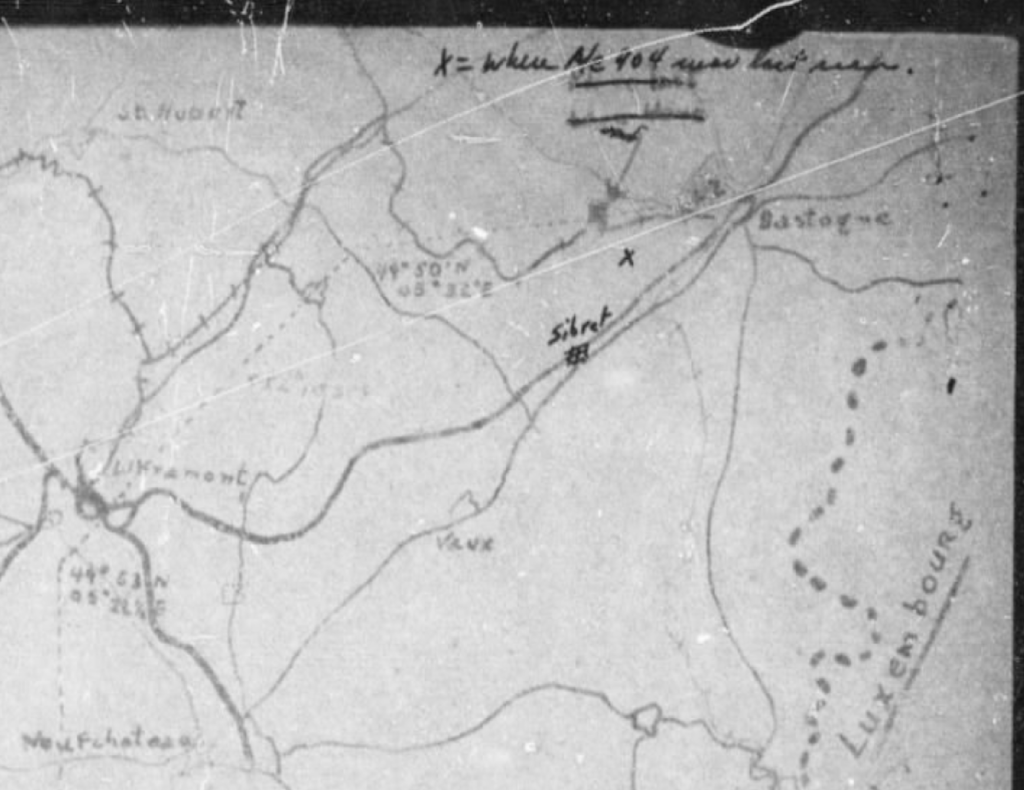 Staff Sergeant Anthony Thomas Piraino was buried in a temporary grave in the Grand Failly Cemetery in Longuyon, France. Later he was reinterred in the Luxembourg American Military Cemetery in Block A, Row 1, Grave 15. He was posthumously awarded the Army Good Conduct Medal, American Campaign Medal, WW2 Victory Medal, and the European-African-Middle Eastern Campaign Medal.
Anthony's older brother Joseph who was serving in the Army would also be killed in action the next year in March. Joseph was buried next to his brother Anthony in the Luxembourg American Military Cemetery in grave 16.
With a small child to raise, Staff Sergeant Anthony Piraino's wife Irene remarried after his death. She passed away one day shy of exactly 30 years after Anthony was killed. Their son, Dennis, grew up and moved to Chicago. He passed away in 1993 at age 48.
This story is part of the Stories Behind the Stars project (see www.storiesbehindthestars.org). This is a national effort of volunteers to write the stories of all 421,000+ of the US WWII fallen saved on Together We Served and Fold3. Can you help write these stories? These stories will be accessible via smartphone app at any war memorial or cemetery.
If you noticed anything erroneous in this profile or have additional information to contribute to it, please email feedback@storiesbehindthestars.org.
SBTSProject/Illinois/LaSalle
SBTS Historian: Pam Broviak
Source List:
U.S., City Directories, 1822-1995, LaSalle, Ill., 1945, Irene Peraino (wid Anthony), 1372 Argyle, Ancestry.
U.S., World War II Army Enlistment Records, 1938-1946, Anthony T. Piraino, Ancestry.
"United States, Social Security Numerical Identification Files (NUMIDENT), 1936-2007", Dennis Anthony Piraino, database, FamilySearch.
"U.S., Headstone and Interment Records for U.S., Military Cemeteries on Foreign Soil, 1942-1949," Anthony T. Piraino, Ancestry.