Frank Joseph Harzheim was born in Peru, Illinois, on 21 September 1913. He was the fifth child of Frank and Gertrude Potthoff Harzheim. His parents were both immigrants who left Germany for the U.S. in the late 1880s. They married in Peru, Illinois, on 8 November 1898. At the time of Frank's birth, his family was living in a home they purchased at 1516 Eighth street in Peru, and his father was working as a caster at the local clock factory, Westclox.
After Frank was born, his parents had four more children. Their total of nine kids included three boys and six girls: Katherine (Kate), Elizabeth, John, Madelyn, Frank Jr., Joseph, Marie, Caroline, and Hilda. In 1922, when Frank was eight years old his sister Kate married Robert Bauer. The next year in 1923 his sister Elizabeth married Larry Rocknowski.
As Frank entered his teen years and finished grade school, the Great Depression settled over the country. This placed a significant economic burden on many families as they struggled to maintain a home and raise their families. By 1930 when Frank was 16, he and his two older siblings John and Madelyn were working, most likely helping to contribute to the family's income. Frank was a delivery man for Westclox while his brother John was a "clock man." Their sister, Madelyn was working as a sales lady at a confectionary store. The four youngest Harzheim children—Joseph, Marie, Caroline, and Hilda—were attending school.

About this same time Frank became involved with a local ball club, the Illinois Valley Amateur League. Having grown up only a half block from the ball fields in Washington park, he perhaps developed a love for the game as a young child. Referred to as "Red" Harzheim, his performance on the field was often noted in local papers between the years 1932 and 1941. However, other records show he was playing for a Peru team by at least 1930.
Frank was fortunate that through the 1930s when people were struggling due to the depression, he was able to continue working at Westclox. And his job didn't just provide an income. For it was most likely while working at Westclox he met and fell in love with Ida Donatoni, a young lady from Spring Valley. They were married in St. Anthony's Church in her hometown on 23 October 1935. They made their home in Spring Valley, and in May 1938 he and his wife welcomed a baby daughter. Now a citizen of Spring Valley, Frank also seems to have joined a Spring Valley team in the league. But their lives were soon to be impacted by world events taking place overseas.
Frank lost his father in 1939, and the next year in 1940, Frank's draft number was called. On his draft registration card, signed on 16 October 1940, Frank noted he was 27 years old and lived at 318 W. Dakota street in Spring Valley. He was a tall man with a height of 6 feet 1 inch and a weight of 170 pounds. Based on his nickname "Red," it's no surprise his hair color was listed as red, a color also shared by his brother John.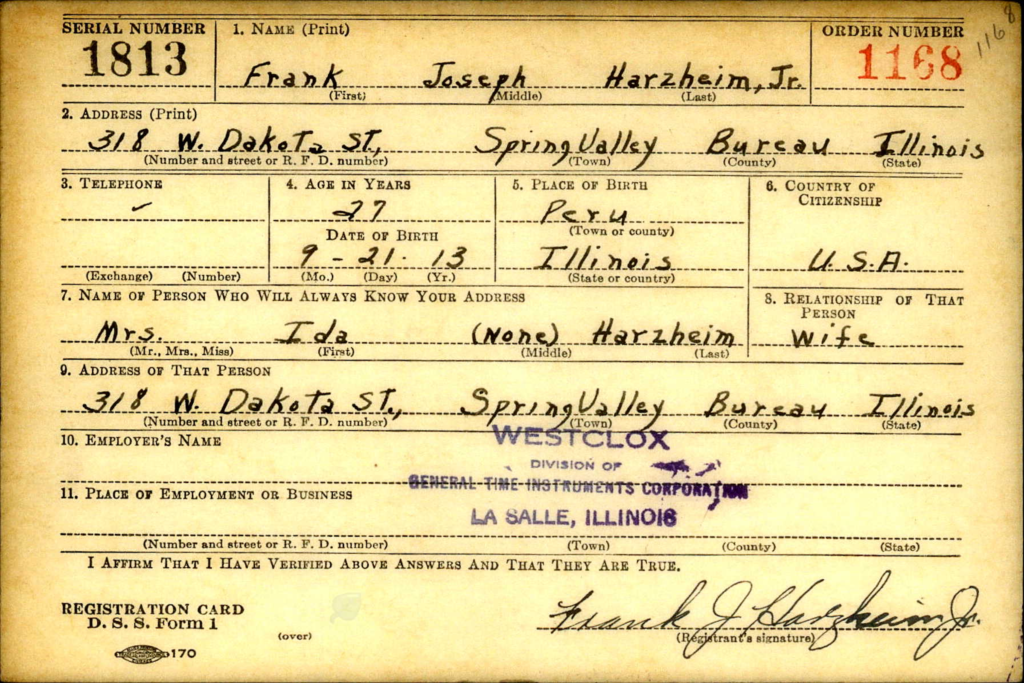 On 14 January 1944, the local paper reported Frank along with 19 others from the area were drafted and sent to induction stations. His brother John had enlisted the year before in the Navy on 26 November 1943; however, John was discharged a month later. Frank's other brother, Joseph had enlisted even earlier in the Army on 10 February 1941 at Chicago before the U.S. had officially entered the war. So, by the time Frank entered the Army in early 1944, his brother Joseph had already served about three years.
At some point after completing basic training, Private Frank Harzheim joined Company F as part of the 2nd Battalion of the 22nd Infantry Regiment in the 4th Division—the same regiment in which Ernest Hemingway, the famous author, was attached from July to December 1944. The 4th Infantry Division was part of the D-Day invasion landing on Utah Beach on 6 June 1944. However, it's not known if Frank was with the division at the time. After invading France, the division fought their way across France. Frank was with them in September 1944 when they were serving as part of the First Army spread out from Aachen to the southern tip of Luxembourg. While they were holding this front line, the weather was miserable with mud, continuous rain, and fog.
On September 14th, the 22nd Infantry Regiment was part of the advance across the German's Siegfried Line—a defensive barrier constructed by Germany to deter invasion. Their mission was to seize "ground on the crest of the central plateau beyond the Pruem River, more than 10 miles away." The 22nd was to launch their attack that day at 10 a.m. along with the 12th, but they were delayed until noon. By the end of the day, the regiment "held a breach in the West Wall about two miles wide." And on September 17th, the 22nd Infantry "occupied the crest of the objective, Hill 520." But several setbacks including the terrain and rain worked in the favor of the Germans to stop any further advance at that time.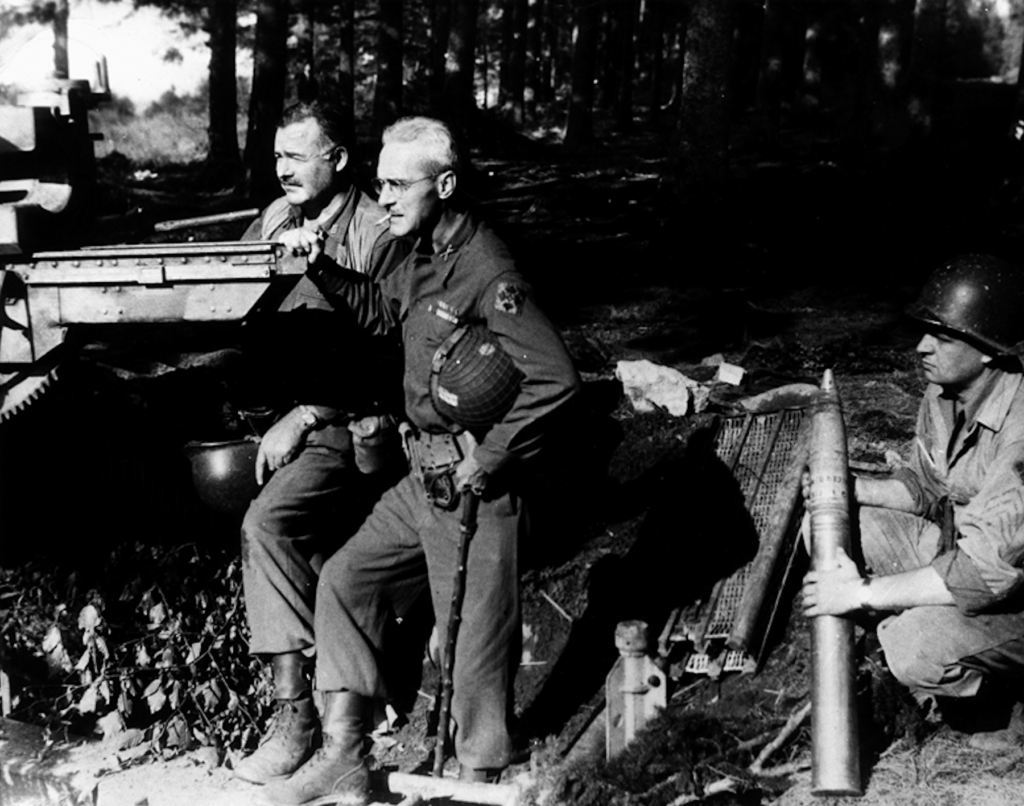 It was possibly during this push into Germany, known as the Battle of the Schnee Eifel, Private Frank Harzheim was hit by artillery shell fragments. He was taken to a nearby field hospital but did not survive. Private Frank Harzheim passed away on 23 September 1944, two days after his birthday—he was 31 years old.
The next month on 23 October 1944, St. Anthony's Catholic church offered a special mass for Private Frank Harzheim. He was the first member of the church to be killed in action. Frank was laid to rest in Grave 37, Row 2, Block A in the Henri-Chapelle American Cemetery in Liege, Belgium. For his service he received posthumously the Purple Heart, American Campaign Medal, World War II Victory Medal, and the European-African-Middle Eastern Campaign Medal.
Ater the war, Frank's brother Joseph returned to Peru. He had served in the 7th Infantry Division as a combat foot soldier who fought in the Aleutians, Leyte, Kwajalein, and Okinawa; Joseph mustered out as a Master Sergeant. Joseph and Frank's sister, Caroline, also served in the war in the U.S. Navy Waves with the medical corps. Years after Frank's death, his widow, Ida, eventually remarried. She passed away in 1981.
This story is part of the Stories Behind the Stars project (see www.storiesbehindthestars.org). This is a national effort of volunteers to write the stories of all 421,000+ of the US WWII fallen saved on Together We Served and Fold3. Can you help write these stories? These stories will be accessible via smartphone app at any war memorial or cemetery.
If you noticed anything erroneous in this profile or have additional information to contribute to it, please email feedback@storiesbehindthestars.org.
SBTSProject/Illinois/Bureau
SBTS Historian Pam Broviak
You can also access this story at the following sites:
Source List
1910 U.S. Census, Frank Hartcheim, Ancestry.
1920 U.S. Census, Frank Harzheim, Ancestry.
1930 U.S. Census, Frank Harzhiem Sr., Ancestry.
Marriage License, Frank Harzheim to Gertrude Pothoff, 1898, LaSalle county, Illinois, Family Search.
Illinois, County Marriages, 1810-1940, Robert L Bauer to Kate Harzheim, 1922, Family Search.
Marriage License, Larry Thomas Rocknowski to Elizabeth Harzheim, 1923, Family Search.
"Sally's Aces Get Trumped Once More," The Ladd Journal, 16 June 1932, p. 5, col. 4, Newspaper Archive.
"Shape of Things to Come," Dixon Evening Telegraph, 19 June 1941, p. 7, col 1–2, Newspaper Archive.
"Announce Marriage of Spring Valley Girl," The Ladd Journal, 24 September 1936, p. 5, col. 6, Newspaper Archive.
"Cook County, Illinois Marriage Index, 1930-1960," Frank Herzheim to Ida Donatoni, Ancestry.
"Illinois Deaths and Stillbirths, 1916-1947," Frank Harzheim, Sr., Family Search.
"Father of Spring Valley Man Dies in Peru," Ladd Journal, 21 December 1939, p. 1, Newspaper Archive.
"Men Accepted from Board No. 2," The DePue Leader, 14 January 1944, p. 1, Newspaper Archive.
"Peru Cardinals, 1930," Photo from collection of Joseph Harzheim.
Message from Joseph Harzheim, grand nephew of Frank Harzheim, Jr.
U.S., World War II Draft Cards Young Men, 1940-1947, Frank Joseph Harzheim, Jr., Ancestry.
U.S., World War II Draft Cards Young Men, 1940-1947, John Aloyisus Harzheim, Ancestry.
"Untitled," Spring Valley Bureau County Democrat, 14 January 1944, p. 15, Newspaper Archive.
"U.S., Department of Veterans Affairs BIRLS Death File, 1850-2010," John Aloysius Harzheim, Ancestry.
"U.S., World War II Hospital Admission Card Files, 1942-1954," Joseph A Harzheim, Ancestry.
"U.S., World War II Hospital Admission Card Files, 1942-1954," Service No. 36784510, Fold3.
"U.S., World War II Army Enlistment Records, 1938-1946," Joseph A Harzheim, Ancestry.
United States Army, 4th Infantry Division, Fold3.
"1st Battalion 22nd Infantry, Penetrating the Siegfried Line" 22nd Infantry Regiment Society website.
David Rothbart, A soldier's journal: with the 22nd infantry regiment in World War II, 2003, Internet Archive.
Charles B. MacDonald, "The Siegfried Line Campaign," Center of Military History, U.S. Army, 1993.
"Cabrini Sodality Plans Harzheim Mass," Spring Valley bureau County Democrat, 20 October 1944, p. 9, Newspaper Archive.
"Obit for Caroline Kirkham," GenealogyBank.com.
https://www.findagrave.com/memorial/59353273/ida-t.-robich
https://www.findagrave.com/memorial/56281884/frank-j-harzheim