Lawrence Wayne Watson was born on 8 March 1925, in Oglesby, Illinois, to William and Mary Nowicki Watson. When Lawrence was born his parents had been married for almost four years and already had two sons Edward and William. Following Lawrence, the couple had two more children: Lucille in 1927 and Leonard in 1928.
Lawrence's father William supported his family by working as a laborer at the cement mill. The family rented a home at 320 Clark street in Oglesby, Illinois. On 13 May 1933, Lawrence's older brother Edward drowned in the Vermilion River at age 10 after falling out of a rowboat. He was buried in St. Hyacinth Cemetery in LaSalle.
By 1942, Lawrence was a sophomore at LaSalle Peru Township High School. He registered for the draft the next year on 8 March 1943. At the time he was 18 years old and 5 foot 6 inches tall. He weighed 150 pounds with brown hair and brown eyes. A couple months after registering, Lawrence Watson enlisted in the U.S. Air Corps on 25 May 1943, in Peoria, Illinois.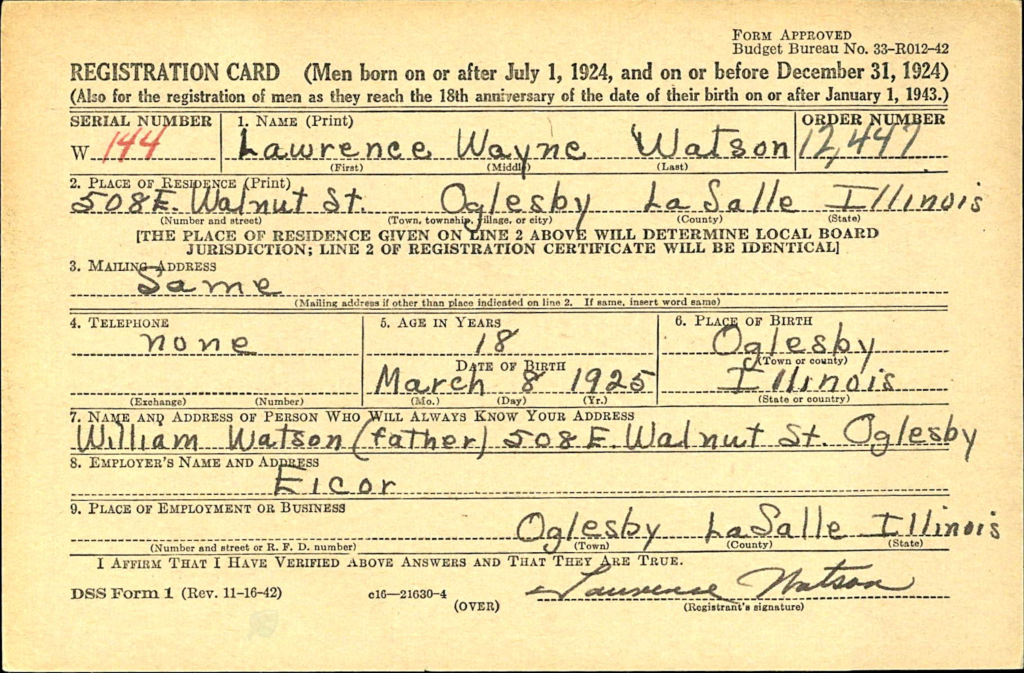 By the end of 1944, Watson was serving overseas in the European Theater with the 706th Bomb Squadron in the 446th Bomb Group. On 2 December 1944, he was the waist gunner on 10-man crew of a B-24. They were on a mission to bomb Bingen Marshalling Yards in Germany. Reports indicate most likely due to weather conditions at the time, the aircraft lost formation and went missing along with its crew of 10 men including Watson.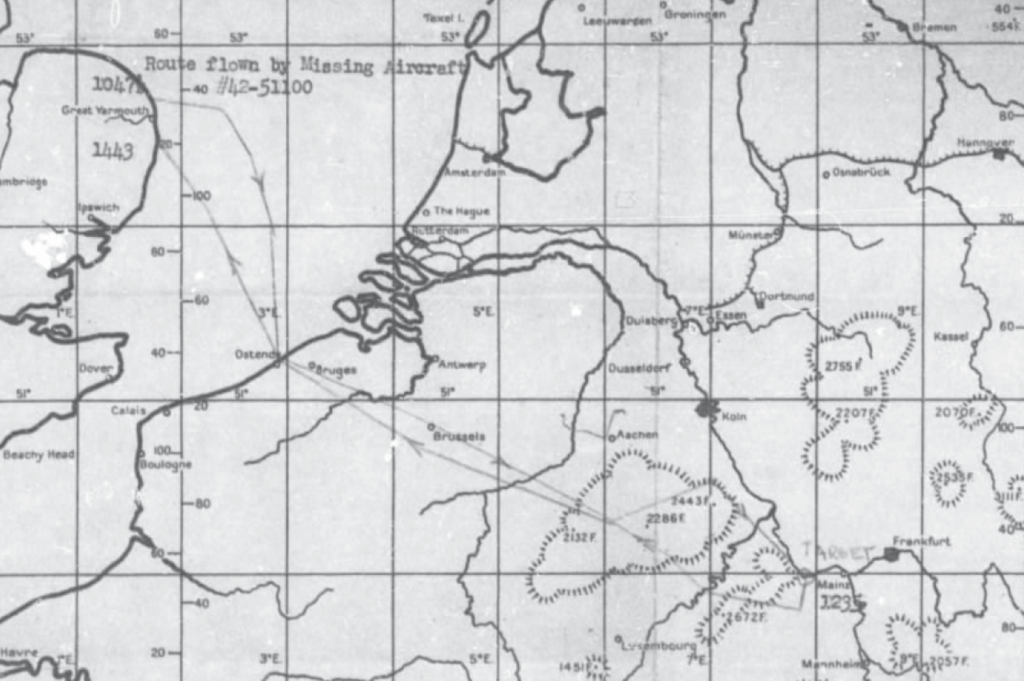 Staff SGT Lawrence Watson is memorialized on the Tablets of the Missing in Cambridge American Cemetery in Cambridge, England. He received the Air Medal with 3 Oak Leaf Clusters, the American Campaign Medal, the World War II Victory Medal, the Army Good Conduct Medal, and the European-African-Middle Eastern Campaign Medal.
This story is part of the Stories Behind the Stars project (see www.storiesbehindthestars.org). This is a national effort of volunteers to write the stories of all 421,000+ of the US WWII fallen saved on Together We Served and Fold3. Can you help write these stories? These stories will be accessible via smartphone app at any war memorial or cemetery.
If you noticed anything erroneous in this profile or have additional information to contribute to it, please email feedback@storiesbehindthestars.org.
SBTSProject/Illinois/LaSalle
SBTS Historian: Pam Broviak
You can also access this story at the following sites:
Source List:

1930 U.S. Census, William Watson, Ancestry.
1940 U.S. Census, William Watson, Ancestry.
Marriage Watson to Nowicki, 1921, FamilySearch.
U.S., School Yearbooks, 1900-2016, Lawrence Watson, p. 37, Ancestry.
U.S., World War II Draft Cards Young Men, 1940-1947, Lawrence Wayne Watson, Ancestry.
U.S., World War II Army Enlistment Records, 1938-1946, Lawrence W. Watson, Ancestry.
U.S., Headstone and Interment Records for U.S., Military Cemeteries on Foreign Soil, 1942-1949, Lawrence W. Watson, Ancestry.
U.S., World War II Hospital Admission Card Files, 1942-1954, Lawrence W. Watson, Ancestry.
Death Certificate, State of Illinois, Edward Watson, 18205, 1933, FamilySearch.
Missing Air Crew Report, 11054, Fold3.
https://www.findagrave.com/memorial/237125740/lawrence-watson