Edward "Bo" Bernard Pilch was born on 2 May 1916, in LaSalle, Illinois, to Ludwig and Bernice Bak Pilch. Ludwig and Bernice were from the Marcowka area in southern Poland and had emigrated to the United States in 1905. They settled in LaSalle, and Ludwig got a job working at the Matthiessen and Hegeler Zinc Company. About a year after arriving in America they had a son Albert. Then a few years later they had a son Ludwig in 1909 who passed away when he was five in 1914 from chronic gastroenteritis. Two years later when Edward was born, the family was living at 535 Todd street on the east side of LaSalle.
When Edward was five years old, his father died from pneumonia at age 49 on 30 October 1921. His mother remarried on 16 May 1922. She had two more sons with her second husband Andrew Plawny: Joseph Plawny born in 1923 and Thaddeus Plawny born in 1925.
In the 1930s, Edward attended LaSalle-Peru Township High School. He played on the school football team and was a member of the school's house of representatives all four years. He was also captain of the 1934–1935 football team. In his senior yearbook, his life ambition is "to be an All-American tackle at St. Mary's." After graduating high school, Edward did join the freshman team at St. Mary's College in California.
Eventually Edward returned to LaSalle and started working at Matthiessen & Hegeler Zinc Company where his father had worked. In 1940 as America readied for war, Edward Pilch joined other young men across the country in registering for the draft on 16 October 1940. At the time he was 5 feet 11 ½ inches tall weighing 210 pounds with brown eyes and brown hair.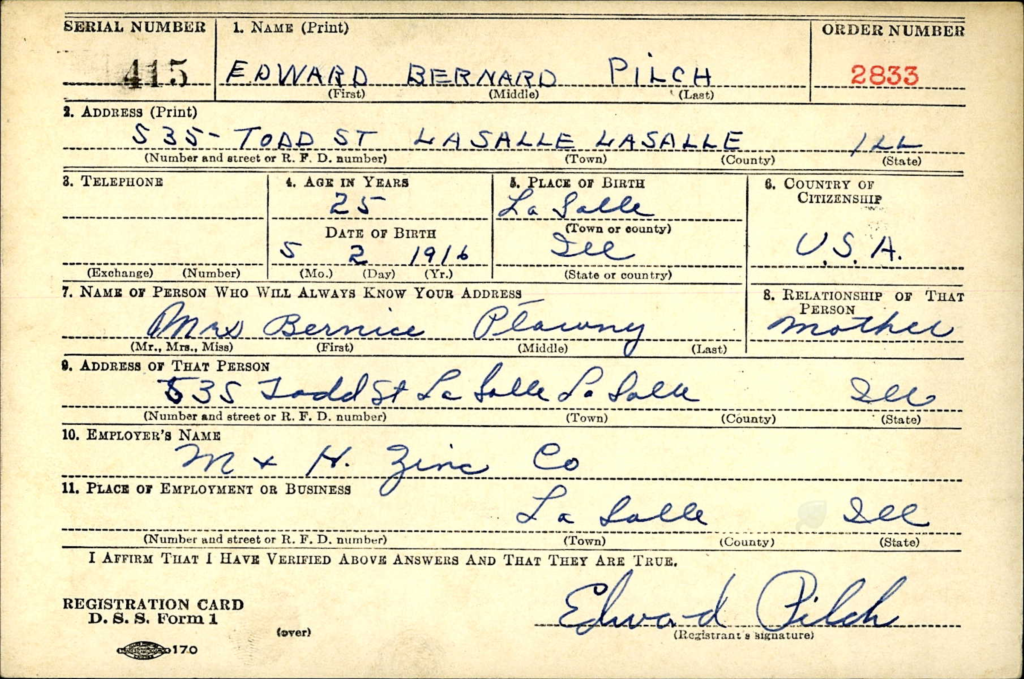 About a year and a half after registering, Edward entered the Army on 17 June 1942. His brother Joseph Plawny who was working in Chicago at the time registered later that June on the 29th. Their brother Thaddeus and brother Albert did not register until 1943. That year Joseph Plawny also enlisted in the Army.
At some point Edward was assigned to the 62nd Armored Field Artillery Battalion, HQ Battery, along with another soldier from his hometown area George Shinske. Their Battalion landed at Casablanca on 19 November 1942. Over the next several months the battalion made its way across northern Africa. In June of the next year, they landed on the coast of Tunisia. In July 1943 they sailed for Sicily. By mid-August Sicily was in the hands of the Allies; the Sicilian Campaign ended on 16 August 1943. The Battalion report summarized both campaigns as follows:
"The Sicilian Campaign differed from the Tunisian Campaign in that we coordinated air-ground-attacks; made behind the lines invasions; and utilized the air-borne troops for the first time. In many respects it was quite similar to the Tunisian Campaign in that the Germans left holding forces of Italians behind and evacuated all possible Germans; and the German withdrawal to a water surrounded peninsula in both campaigns. In both campaigns the number of Italian prisoners outnumbered the German prisoners."
After Sicily in June 1944, the Battalion moved onto England to prepare to participate in the Normandy Invasion on D-Day. But not all of the Battalion landed in France on D-Day—164 of the enlisted men in the Battalion remained in England and did not arrive in France until 17 June 1944. However, PVT Edward "Bo" Pilch was one of the men landing on Omaha Beach on 6 June 1944. He was slightly wounded during the operation, but was able to remain with the Battalion while they waited for the infantry to clear an exit off the beach.
Through June, the Battalion made their way across France. By late in the evening on July 1st they were making their way towards the area of St. Honorine de Ducy, in France. On 10 July 1944, they received word that four officers and six enlisted men of the Battalion were awarded the Purple Heart Medal for wounds received. PVT Edward Pilch was one of those men—his medal number was 102489.
Over the next two weeks the Battalion moved through France. On July 19th they received tetanus and typhus shots then departed the next day for an area near Rauline, France. On July 25th they received orders to move to another position near Esglandes and then eventually onto an area southwest of St. Gilles, France. By July 28th they were ordered into firing positions near Notre Dame le Cenilly. Fighting continued into the next day. According to the Battalion report, "The forward observation sections near La Don Villiere, France, were attacked by the enemy during the morning. PVT Edward B. Pilch, 36060260, Headquarters Battery and T/5 Jack Connally, 38141763, Battery 'B', were killed during the action…CPL Oscar C. Cannon, 32367799, Headquarters Battery, was captured by the enemy when he attempted to evacuate Pilch and Bower in the ¼-ton and took the wrong road. He escaped from the Germans three days later and reported back to the Battery Commander for duty."
The conditions reported at the time of PVT Pilch's death indicate the men had not been able to get more than four hours of sleep a night throughout the preceding month. This was one of several challenges the Battalion faced as they fought the enemy in France.
After Edward's death, George Shinske, a fellow soldier from LaSalle, in a letter he sent home wrote the following regarding Pilch's death:
"Pilch and I had been together all the time. Came into the army the same day…He surely was a real pal and buddy. He may be gone but he will never be forgotten by me. That's war—some have to pay the price in blood, and his case was one. His folks, his girl, and friends can be proud of him as he was a fine soldier who died fighting."
For his service in addition to the Purple Heart, PVT Edward Pilch earned the World War II Victory medal, the American Campaign Medal, the Army Good conduct Medal, and the European-African-Middle Eastern Campaign medal. His body was returned after the war and buried in St. Hyacinth Cemetery by his family.
Edward's brother Joseph continued to serve for several months after the end of the war. He was discharged on 22 January 1946, as a corporal. Edward's brother Thaddeus Plawny who was too young to serve in the war joined a Catholic Seminary on 8 September 1946.
This story is part of the Stories Behind the Stars project (see www.storiesbehindthestars.org). This is a national effort of volunteers to write the stories of all 421,000+ of the US WWII fallen saved on Together We Served and Fold3. Can you help write these stories? These stories will be accessible via smartphone app at any war memorial or cemetery.
If you noticed anything erroneous in this profile or have additional information to contribute to it, please email feedback@storiesbehindthestars.org.
SBTSProject/Illinois/LaSalle
SBTS Historian: Pam Broviak
You can also access this story at the following sites:
Fold3, Edward Bernard Pilch
Together We Served, Edward Bernard Pilch
Source List:
"Baltimore, Maryland, U.S., Passenger Lists, 1820-1964," SS Cassel, 3 October 1905, Ludwig and Bronislawa Pilch, Ancestry.
Geneteka Website, Ludwig Pilch Birth/Baptism, 1872.
"Illinois, U.S., Deaths and Stillbirths Index, 1916-1947," Ludwig Pilch, Ancestry.
"LaSalle County Death Certificate," Ludwig Pilch, 1914, FamilySearch.
State of Illinois Death Certificate, Ludwig Pilch, no. 6806, 1921, FamilySearch.
"U.S., School Yearbooks, 1900-2016," LaSalle-Peru Township High School, Edward Pilch, 1935, Ancestry.
"U.S., World War II Army Enlistment Records, 1938-1946," Edward Pilch, Ancestry.
"U.S., World War II Army Enlistment Records, 1938-1946," Joseph Plawny, Ancestry.