Charles Mlaker was born on 26 November 1919, in LaSalle, Illinois, to Frank and Johanna Bergles Mlakar. Frank was a carpenter who was originally from Stari trg, Austria. About 1905 he left his homeland to travel to America and several years after arriving filed a Declaration of Intention to become a citizen. Charles' mother, Johanna, was also from Austria. She traveled to the United States with her mother and three siblings from her birthplace of Gornji Grad when she was seven years old. They arrived in New York in December 1900. Johanna's father, Joseph Bergles, was already living in LaSalle, Illinois, at the time having immigrated a few years earlier. Charles' maternal grandparents made their home at 1140 Third street in LaSalle. And in 1910, Frank Mlaker was listed on the census as a boarder in their home. Both he and Johanna's brother Valentine were working in the coal mine. Johanna's older brother Matt was listed as disabled.
Within a few years of that census, on 18 January 1914, Frank married Johanna. He was 26; she was 21. Frank and Johanna had their first son Frank later that year. Their daughter Dorothy was born in 1918, son Charles in 1919, and daughter Mildred in 1930.
Charles most likely knew his maternal grandmother Maria and his maternal aunts and uncles. However, his grandfather Joseph died in 1916 at age 65 before Charles was born. Two years later in 1918 Charles' uncle, Valentine, entered the Army to serve in World War I. He fought with the 311th Engineers, 56th Division. In 1919 Valentine was discharged from the service and returned home to LaSalle and his family.
About 10 years after World War 1 ended, Charle's maternal grandmother Maria died in 1928. By 1930, Charles was living at 2044 Crosat street in LaSalle with his parents and two siblings Frank and Dorothy. Charles was attending school; however, he would eventually leave school after one year of high school. As Charles became an adult, he developed an interest in bowling. In 1940 at age 20 he was working as a pin setter at the local bowling alley. His interest in bowling was most likely encouraged by his father who was also active in the sport.
But war would interrupt Charles' bowling career. He registered for the draft on 17 February 1941. His records note he stood 5 feet 11 inches tall and weighed 158 pounds with red hair and blue eyes. Within a month of registering, he enlisted on 28 March 1941. He was assigned to the Ordnance APO 507 Depot O-629 which was part of a Headquarters company.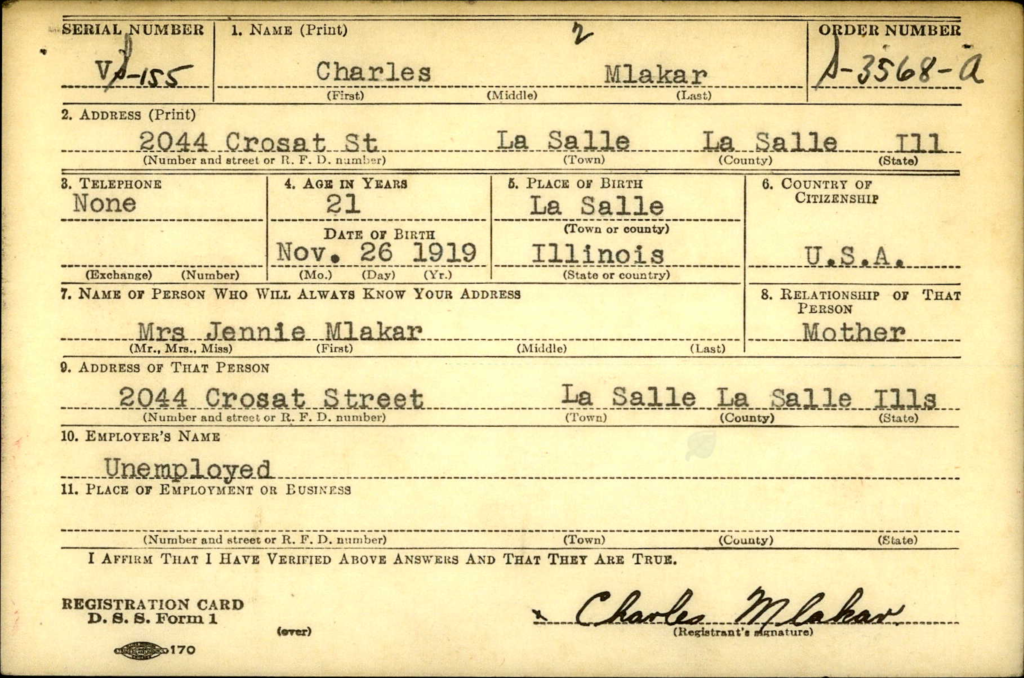 On 14 September 1943, Charles died at age 23 due to a non-battle injury. Four years later his father Frank died in Peoria on 17 October 1947. Charles' body was returned to the U.S. in 1948, and he was buried in St. Vincent Cemetery in LaSalle, Illinois. T/3 Charles Mlaker was awarded the WW2 Victory Medal, the American Campaign Medal, Asiatic-Pacific Campaign Medal, American Defense Service Medal, and the Army Good conduct Medal.
This story is part of the Stories Behind the Stars project (see www.storiesbehindthestars.org). This is a national effort of volunteers to write the stories of all 421,000+ of the US WWII fallen saved on Together We Served and Fold3. Can you help write these stories? These stories will be accessible via smartphone app at any war memorial or cemetery.
If you noticed anything erroneous in this profile or have additional information to contribute to it, please email feedback@storiesbehindthestars.org.
SBTSProject/Illinois/LaSalle
SBTS Historian Pam Broviak
You can also access this story at the following sites:

Sources:
1910 U.S. Census, Joe Bengles, Ancestry.
1920 U.S. Census, Frank Mlaker, Ancestry.
1930 U.S. Census, Frank Malker, Ancestry.
1940 U.S. Census, Frank Malaker, Ancestry.
Marriage Frank Mlaker to Jennie Bergles, 1914, Family Search.
Argus Bowling Tournament Prize List Announced, The Rock Island Argus, 3 May 1938, p. 12, Newspapers.com.
New York, U.S., Arriving Passenger and Crew Lists, USS Lahn, 27 Dec 1900, Marie Berglez, lines 10 to 14, Ancestry.
"Vesti iz zivljenja ameriskih Slovencev," Enakopravnost, Cleveland, Ohio, 5 October 1943, p. 1, Newspapers.com.
World War II Young Man's Draft Registration, Charles Mlaker, Ancestry.
U.S. Headstone Application, Charles Mlaker, Ancestry.
https://www.findagrave.com/memorial/71340011/charles-mlakar