John Tomazin Jr. was born on 6 July 1916, to John and Frances Savric Tomazin. Both of John's parents were born in what is now southeastern Slovenia—an area which was considered part of Austria when they left their homeland in the early 1900s for America. John's mother Frances arrived in New York aboard the SS Alice with her mother Maria Savric on 27 August 1913. Traveling with them were Maria Savric—sister to Frances—and Elizabeth—two-year-old granddaughter to Frances' mother Maria Savric; Frances was 28 years old when she made the journey.
John Tomazin was born in 1880, possibly in Catez ob Savi. He traveled to America in the early 1900s and was living in the LaSalle, Illinois, area by about 1915. On 18 October 1915, he married Frances Savric in Ottawa, Illinois. John Tomazin Jr. was born the next year. His parents eventually had three other children: Frank born in 1917, Jane born in 1918, and Joseph born in 1923. Within about a decade of arriving in the United States, John Tomazin Sr. had found a job working at the zinc works and purchased a home at 227 Chartres street. He also received his naturalization certificate on 17 June 1927, when John Junior was almost 11 years old.
John Junior's maternal grandparents were also living in LaSalle during his childhood not far from his parent's home. His maternal grandfather, Anton Savric, arrived in America in 1909, four years prior to the arrival of John Junior's mother Frances and Anton Savric's wife, Maria Savric. Anton and Maria Savric purchased a home at 219 Chartres, and Anton supported his family by working as a laborer. But John Junior did not have many years to spend with his grandfather—Anton Savric passed away at age 63 on 13 October 1923, when John Junior was seven years old.
As John Tomazin Jr. entered his teen years, the country was entering a depression. People across America struggled just to feed their families. Through the 1930s the Tomazin family not only faced these challenges, but also the loss of loved ones. John Junior's maternal aunt Maria passed away on 30 April 1932, when she was 46. According to her death certificate her death was caused by a heart condition she had since childhood due to rheumatism. Maria was also mourned by a husband, Frank Kozell, and two daughters and three sons. John Junior's maternal grandmother also passed away seven years later in the summer of 1939, three days before John's 23rd birthday. Maria Savric was 85 years old at the time of her death.
It also seems during this time, John Tomazin Sr. lost his position at the zinc works because in 1940 he was working as a laborer for the W.P.A. Around that same time, John Junior who was 24 years old was working as a laborer. The year 1940 was also the year that the United States required men to begin registering for a draft with the first registration taking place on 16 October 1940. John Tomazin Jr. and his brother Frank both registered on this day. Now 24 years old, John Junior was 5 foot 8 inches tall weighing 140 pounds with brown eyes and brown hair.
About a year and a half after registering for the draft, John Tomazin Jr. enlisted in the U.S. Army on 27 March 1942, in Chicago. At some point he was assigned to Company A of the 9th Armored Infantry Battalion in the 6th Armored Division. The 6th Division, which was referred to as the "Super Sixth," landed on Utah Beach on the Normandy Peninsula on 18 July 1944. On 1 August, after the Super Sixth was assigned to Patton's Third U.S. Army, they were given orders to drive "up the center of the Brittany Peninsula and capture Brest." However, once they arrived, enemy movement in the area caused their orders to be changed—instead the division was redirected toward Lorient and Vannes.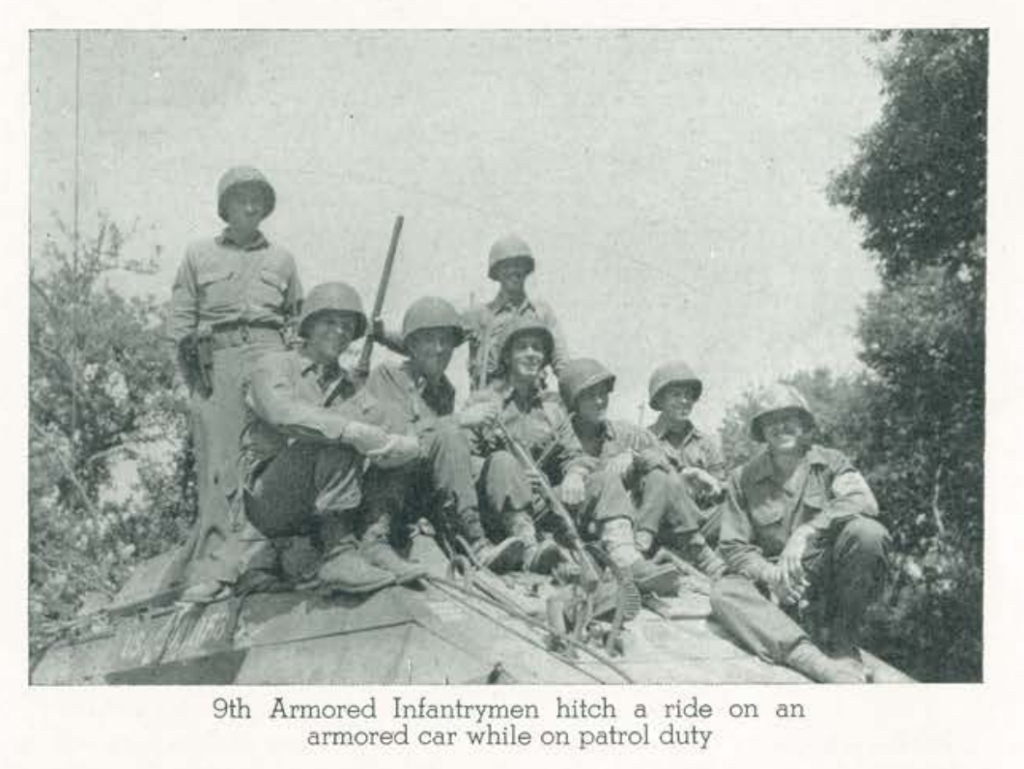 By mid-August, the division had made it to the area of Lorient. With the Germans garrisoned inside Lorient, the division spent the next couple weeks in a containing mission. They set up numerous observation posts and took out any enemy intrusions. Patrols of 25 to 50 men were also sent deep into isolated enemy forces. Their mission also included destroying these enemy forces and related artillery. PFC John Tomazin Jr. was killed on 24 August 1944, although the details of his death could not be determined. He was one of 257 in the Division killed in action in the Brittany Campaign.
PFC John Tomazin Jr. was 28 years old when he died; he was buried in a temporary grave. After the war, his body was exhumed and returned to the United States. He was buried in a permanent grave on 15 July 1948, in Section D, Grave 149 in Rock Island National Cemetery in Rock Island, Illinois. For his service he was awarded the American Campaign Medal, WW2 Victory Medal, European-African-Middle Eastern Campaign Medal, Combat Infantryman Badge, and the Army Good conduct Medal.
John Tomazin Jr.'s brother Frank had also entered the U.S. Army in 1942 on June 29th. He was discharged from the Army after the war on 6 September 1945.
This story is part of the Stories Behind the Stars project (see www.storiesbehindthestars.org). This is a national effort of volunteers to write the stories of all 421,000+ of the US WWII fallen saved on Together We Served and Fold3. Can you help write these stories? These stories will be accessible via smartphone app at any war memorial or cemetery.
If you noticed anything erroneous in this profile or have additional information to contribute to it, please email feedback@storiesbehindthestars.org.
SBTSProject/Illinois/LaSalle
SBTS Historian: Pam Broviak
You can also access this story at the following sites:
Source List:
U.S., Social Security Applications and Claims Index, 1936-2007, Jane Tomazin, Ancestry.
"New York, U.S., Arriving Passenger and Crew Lists (including Castle Garden and Ellis Island), 1820-1957," Anton Savric, Line 6, SS Oceana, 21 April 1909, Ancestry.
Death Certificate, State of Illinois, Anton Showrich, no. 39788, 1923, FamilySearch.
Death Certificate, State of Illinois, Mary Kozell, no. 14913, 1932, FamilySearch.
Death Certificate, State of Illinois, Mary Saurich, no. 28631, 1939, FamilySearch.
Petition for Naturalization, No. 2118, John Tomazin, FamilySearch.
U.S., World War II Draft Cards Young Men, 1940-1947, Joseph Anton Tomazin, Ancestry.
U.S., World War II Draft Cards Young Men, 1940-1947, Frank Tomazin, Ancestry.
U.S., World War II Hospital Admission Card Files, 1942-1954, John Tomazin, Ancestry.
U.S., World War II Army Enlistment Records, 1938-1946, John Tomazin, Ancestry.
U.S., Department of Veterans Affairs BIRLS Death File, 1850-2010, Frank Tomazin, Ancestry.
United States Army, "Combat history of the 6th Armored Division" (1946). World War Regimental Histories.