William R. Cosgrove also known as "Mickey" was born April 9, 1924, in Peru, Illinois, to William R. and Mabel Kohr Cosgrove. At the time of his birth, his father, who was also referred to as "Tinney," was working as a roofer. The family was living with Mabel's mother—Anna Holsinger Kohr—and Mabel's seven-year-old brother—Louis Kohr—at 2208 State street (now Fourth street) in Peru.
Three years after Mickey was born, his parents had another child—Richard Joseph Cosgrove—on May 3, 1927. Around the time Richard, who was also known as "Dick," was born, their father, Tinney, moved on from being a roofer to running a soft drink parlor on East Fifth street in Peru. And while Tinney had moved his family out of his mother-in-law's home for a year or so after Mickey's birth, they all moved back around the time of Dick's birth. This may be because Anna, who was a widow, remarried either late in 1927 or early 1928 and left her home to move in with her new husband, George DeGroot, who was also a widower.
But after only a few years of marriage, Mickey's grandmother Anna found herself again a widow after losing her second husband early in 1930. By 1935 young Mickey and his family were again living with his grandmother and Uncle Louis, but this time in her new home at 1721 Water street in Peru. As teenagers Mickey and his brother attended St. Bede Academy—a local Catholic high school—where Mickey participated on the golf team. While they were in high school, their father expanded his business interests and was running the South Bluff Country Club and the Silver Congo—a night club in LaSalle.
Mickey graduated high school in June 1942 and began operating his own establishment—a service oil station at Fourth and Pike streets in Peru. He registered for the draft along with his cousin, Robert E. Cosgrove, on June 30, 1942, in LaSalle. Mickey was living at the South Bluff Country Club and reported at registration as being five feet five inches tall and weighing 155 pounds with hazel eyes and brown hair.
In addition to his two maternal uncles, Walter and Louis Kohr, Mickey had at least eight paternal uncles. And by the time Mickey registered for the draft at least three of his uncles—Patrick (Lawrence), Edward, and Joseph (Arthur) Cosgrove—had already enlisted. When Mickey enlisted in the Army on February 23, 1943 (although some records note the date was March 3, 1943), at age 18, another of his uncles and his cousin had already joined: Vincent Cosgrove and Robert E. Cosgrove. And by the end of 1943, two more of his paternal uncles enlisted: Francis (Daniel) and Louis Kohr. At some unknown date, his uncle John (Emmett) Cosgrove became another enlisted member of the family.
After joining the Army, Mickey was eventually placed as a Private in Company I of the 33rd Armored Regiment (Light). His regiment had been created on May 12, 1941, from the 3rd Armored Regiment (Light) and trained at Camp Polk in Louisiana. They then moved to Desert Center in California, and next to Camp Picket in Virginia, and finally to Indiantown Gap in Pennsylvania. Early in September 1943, most likely with Mickey on board, they sailed for Europe on the John Errickson. After arriving in England, they were stationed at Warminster, Wiltshire, and participated in pre-invasion training.
During his time in England, Mickey regularly corresponded with friends and family back home through V-mail. Also known as Victory Mail, this method of correspondence was developed to ensure security in transporting mail from soldiers abroad. The original letter was first censored, then copied to microfilm, and printed out on paper once it arrived at its destination. Finally, the postal service delivered the printed letter to its recipient. Years later, John P. Cummings discovered copies of V-mail Mickey sent to John's mother who at the time was Miss Sybil Charles. The letters he found dated from December 1943 through March 1944. Perhaps correspondence dropped off as the timing for the Allied invasion neared.
Mickey as part of the I Company (Medium Tanks) arrived on the Omaha Beach on June 26, 1944, participating in the Normandy Invasion within the 1st Battalion of the 33rd Armored Regiment under the 3rd Armored Division. After Mickey's company and battalion was placed in Combat Command "B" of the division, they began moving through France. They were "engaged in the battle of Hill 91, or Haut Vents" on July 10–11. "During this period Combat Command 'B' had contributed largely to the defeat of an abortive attempt by the Panzer Lehr Division to take Isigny." Mickey was injured during this battle. While he was recovering, his company joined back up with the other combat command under the 3rd Division and became part of the VII Corps.
After biding their time waiting for days of continuous rain to stop, the division was able to begin their "breakthrough out of Normandy." Over the next couple weeks, they made their way through France fighting battles along the way supported by the Air Corps. For a time, Combat Command "B" was assigned intermittently to the 1st and 4th Division. After having fought "continuously for 12 days," they were "closing into what was to be a rest and maintenance are in the vicinity of Refuvieille." However, their hope at a lull in the action was not to be. The 30th Infantry Division had found themselves subject to a counterattack designed to cut off allied forces near Mortain, and on August 7th, Combat Command "B" was ordered to assist. Mickey returned to duty on this day just in time to be placed with his company in Task Force 1 under Colonel Roysdon. By August 12th all task forces had stopped the German forces from achieving their goal.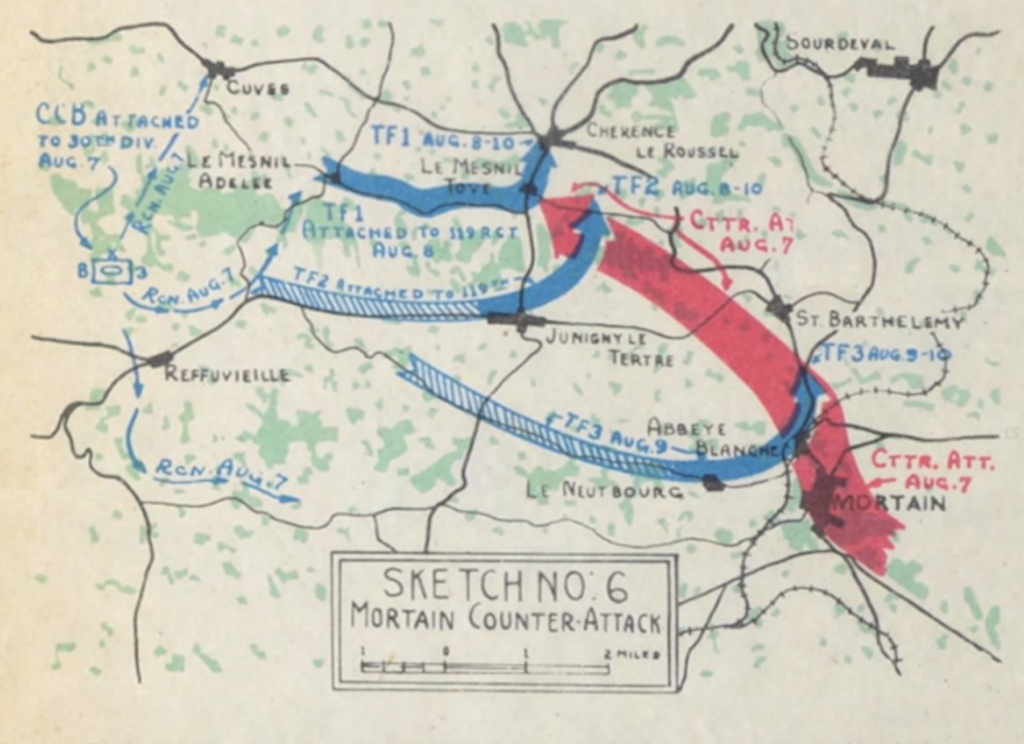 Back reunited under the 3rd Division, Mickey's Task Force moved towards Fromentel. After assisting in the taking of a portion of that town, the division assembled to the south and prepared to cross the Seine River. The 3rd Division would be one of three referred to as the "First Team of the First Army" as it "led the First Army's pursuit of the defeated German forces from the Seine through Mons and to the Siegfried line in eighteen days." After crossing the Seine, the division moved on to cross the Marne River at La Ferte Sous Jouarre on August 27, 1944. By August 28th the division had reached the crossings of the Aisne River at Pont D'Arcy and Soissons. But at some point in this advance around August 29, 1944, Mickey went missing in action and was believed to be dead. He was 20 years old. The War Department later notified his parents of his death. Mickey's niece said Tinney "was in the process of building a new movie theater in La Salle called the Peacock when he got word about Mick missing in action, and the project got put on hold and never started due to Mick being killed." Mickey's funeral was held a few years later in November 1948, and his family buried him in St. Vincent Cemetery in LaSalle. Many of his uncles who served were honorary pallbearers.
Mickey was awarded posthumously the Purple Heart. Also, for his service, PVT William R. Cosgrove would have received the following medals: Army Good Conduct Medal, American Campaign Medal, Europe/African/Middle Eastern Campaign Medal, and the World War II Victory Medal.
This story is part of the Stories Behind the Stars project (see www.storiesbehindthestars.org). This is a national effort of volunteers to write the stories of all 421,000+ of the US WWII fallen saved on Together We Served and Fold3. Can you help write these stories? These stories will be accessible via smartphone app at any war memorial or cemetery.
If you noticed anything erroneous in this profile or have additional information to contribute to it, please email feedback@storiesbehindthestars.org.
SBTSProject/Illinois/LaSalle
SBTS Historian: Pam Broviak
You can also access this story at the following sites:
Sources:
"U.S., City Directories, 1822-1995," LaSalle, 1924, Wm Cosgrove, online database with images, Ancestry
"U.S., City Directories, 1822-1995," LaSalle, 1926, Wm Cosgrove, online database with images, Ancestry
"U.S., City Directories, 1822-1995," LaSalle, 1928, Wm Cosgrove, online database with images, Ancestry
"U.S., City Directories, 1822-1995," LaSalle, 1932, Wm Cosgrove, online database with images, Ancestry
"U.S., City Directories, 1822-1995," LaSalle, 1935, Wm Cosgrove, online database with images, Ancestry
Illinois, U.S., Deaths and Stillbirths Index, 1916-1947, Bertha Degroot, Ancestry.
"'Silver Congo' A Credit to LaSalle," Spring Valley Bureau County Democrat, 24 December 1942, p. 1, NewspaperArchive.
"U.S., World War II Army Enlistment Records, 1938-1946," Ancestry. Patrick Cosgrove, Edward Cosgrove, Joseph Arthur Cosgrove, Vincent Cosgrove, Robert E. Cosgrove, Willam R. Cosgrove, Francis Daniel Cosgrove, Louis Joseph Kohr.
U.S., Veterans' Gravesites, ca.1775-2019, John Emmett Cosgrove, Ancestry.
U.S., World War II Hospital Admission Card Files, 1942-1954, William R. Cosgrove, database, Ancestry.
"D-Day: The Beaches," https://dod.defense.gov/Portals/1/features/2016/0516_dday/docs/d-day-fact-sheet-the-beaches.pdf
Spearhead in the West 1941–1945, the Third Armored Division, and Spearhead History, G-3 Supplement, Official Record of Combat, Major Murray H. Fowler, Fold 3.
https://www.abmc.gov/sites/default/files/interactive/interactive_files/normandy/TheNormandyCampaign_accessibility.pdf
"Pvt. Wm. Cosgrove of La Salle Killed During Invasion," The Times, 12 July 1945, p. 6, Newspapers.com