Walter Bernard Gielow was born on 29 September 1912, in LaSalle, Illinois, to Fred and Annie Neidemeier Gielow. Walter's father Fred was a miner who was born in an area in Germany lying about 75 miles north of Berlin. In 1887, when Fred was 23, he and his brother Carl left Germany for America. The next year Fred's parents, Heinrich and Alexandrina Gielow, arrived with another brother Henry Jr. and his family.
Fred Gielow married Annie Neidemeier—a local girl born in Peru—on 30 September 1891. It's unknown if Walter's maternal grandmother, Sophia Niedemeier was alive at this time—his maternal grandfather Beno had died in 1887. And while both of Walter's paternal grandparents were alive to see their son Fred married, they both passed away a few years before Walter was born.
Walter grew up with five sisters and one brother. His parents lost at least one daughter and one son before he was born. His parents had another daughter four years after Walter was born; she passed away at age two when Walter was about six years old. In the summer of 1929 tragedy hit the Gielow family. Fred Gielow, Walter's father, was fatally injured by falling rock at the Matthiessen and Hegler Zinc plant. He passed away at St. Mary's Hospital where he had been taken soon after the accident. Walter was 16 years old at the time.
After his father's death, Walter remained living at home with his mother. He eventually began working at a factory. Seven years after his father's death, Walter's mother also passed away—she was 61 years old.
By 1940, Walter was working for the W.P.A; on October 16th, he registered for the draft in LaSalle. As a 28-year-old man, he stood five feet nine inches tall weighing 197 pounds with blue eyes and blonde hair. Some time after registering, he enlisted in the U.S. Army and ended up in the 33rd Armored Regiment in the 3rd Armored Division—the same regiment another local man, William "Mickey" Cosgrove, was in.
Because his last known rank was Private First Class, Walter would have been in the Army at least a year before the time of his death. And because his was a "Finding of Death" the actual date of his death would most likely have been a year and a day earlier than the official date. This suggests Walter enlisted at least by 1943. And so, he most likely would have been with his regiment when it was deployed overseas in September 1943, and when it landed on the coast of France on Omaha Beach on 26 June 1944. The 33rd spent all of July and into August on the move fighting battles supported by the Air Corps, and after having fought "continuously for 12 days," they were "closing into what was to be a rest and maintenance area in the vicinity of Refuvieille."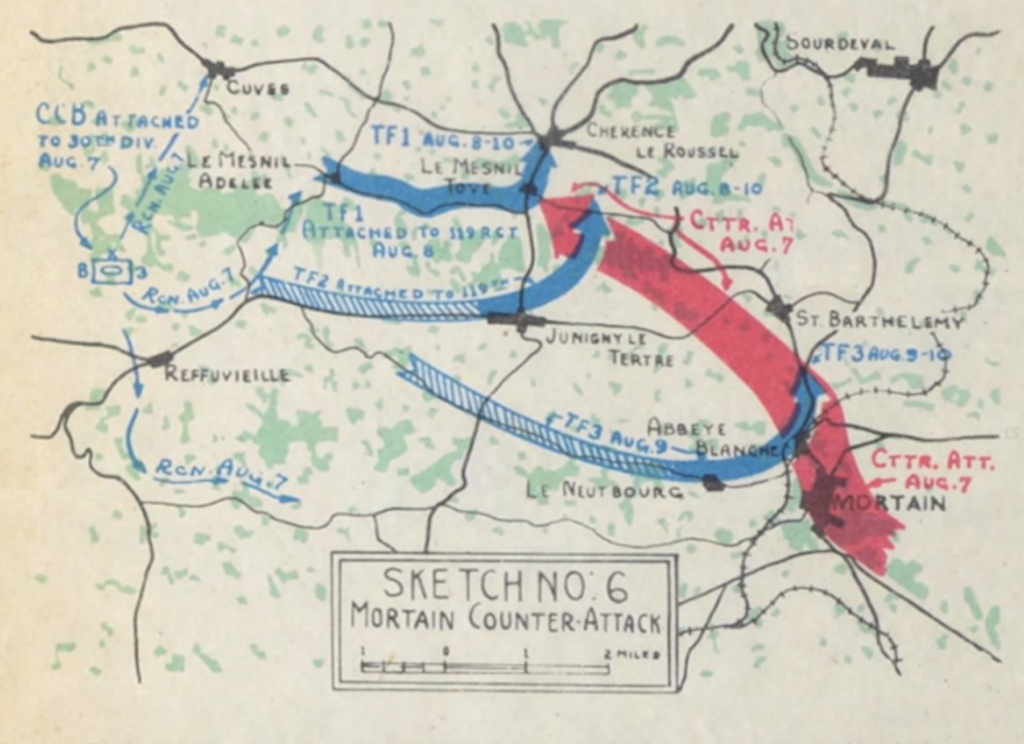 However, their hope at a lull in the action was not to be. The 30th Infantry Division had found themselves subject to a counterattack by the enemy designed to cut off allied forces near Mortain, and on August 7th, Combat Command "B" of the 33rd Armored Regiment was ordered to assist. On the morning of August 11th, enemy aircraft bombed the general vicinity, but no vehicles or personnel were lost. The teams moved into positions in case of a counterattack. By August 12th all task forces had stopped the German forces from achieving their goal. But during the action, on the day of August 11th, PFC Walter Gielow had gone missing along with 13 others. Walter was never recovered, and on 12 August 1945 a finding of death was declared. According to the U.S., Headstone and Interment Records for U.S., Military Cemeteries on Foreign Soil database, he was awarded the Purple Heart. For his service, he would have also received the Combat Infantryman Badge and the following medals: Army Good Conduct Medal, American Campaign Medal, Europe/African/Middle Eastern Campaign Medal, and the World War II Victory Medal. PFC Walter B. Gielow is listed on the Tablets of the Missing in the Brittany American Cemetery in St. James Manche in France.
This story is part of the Stories Behind the Stars project (see www.storiesbehindthestars.org). This is a national effort of volunteers to write the stories of all 421,000+ of the US WWII fallen saved on Together We Served and Fold3. Can you help write these stories? These stories will be accessible via smartphone app at any war memorial or cemetery.
If you noticed anything erroneous in this profile or have additional information to contribute to it, please email feedback@storiesbehindthestars.org.
SBTSProject/Illinois/LaSalle
SBTS Historian: Pam Broviak
You can also access this story at the following sites:
Sources:
Taufen, Heiraten u Tote 1748-1891, Johann Heinrich Friedrich Theodor Gielow, 1864, No. 9, p. 271, Ancestry.
Hamburg Passenger Lists, 1850-1934, Direkt Band 059 (3 Jul 1887 – 29 Dez 1887), SS Harmonia, 9 October 1887, Friedrich and Carl Gielow, Ancestry.
New York, U.S., Arriving Passenger and Crew Lists (including Castle Garden and Ellis Island), 1820-1957, Gielow family listed, SS Harmonia, 1888, Ancestry.
Illinois, U.S., Marriage Index, 1860-1920, Fred Gielow to Annie Neidemeier, Ancestry.
Illinois, U.S., Deaths and Stillbirths Index, 1916-1947, Helen Gielow, Ancestry.
Illinois, U.S., Deaths and Stillbirths Index, 1916-1947, Anne Gielow, Ancestry.
Illinois, U.S., Wills and Probate Records, 1772-1999, LaSalle>Wills, Vol O-Q, 1908-1910, Heinrich Gielow, pp. 244–245, Ancestry.
U.S., Mining Accidents, 1839-2006, Fred Gielow, Ancestry.
U.S., Headstone and Interment Records for U.S., Military Cemeteries on Foreign Soil, 1942-1949, Walter B. Gielow, Ancestry.
Appendix #1 to After Action Report for the Month of August 1944, 3rd Armored Division, 33rd Regiment, Illinois University Library, Digital Collections, Third Armored Division Association Records, Box 10, Folder 1.