William Louis "Bill" Aplington, was born on May 11, 1925, to William J. and Elizabeth Lavanway Aplington, in LaSalle, Illinois. His father was a local attorney who had served in the Army in World War I. By the time Bill was 15, he had five brothers and three sisters. He and at least three of his brothers attended St. Bede Academy—a local Catholic high school. Bill was interested in music and joined his high school's band becoming president his senior year. He was also successful in his studies having made the honor roll his sophomore year. Other activities he enjoyed were journalism and acting. He participated in plays and was a member of the yearbook staff.
While he was still in high school, his older brother Paul, who graduated from St. Bede Academy in 1941, enlisted in the Army on July 30, 1942. Paul served as a private in the Signal Corps. Their oldest brother, James, was serving in the Navy. A younger brother Thomas would later enlist in November 1945 in the Army.
Bill registered for the draft on his 18th birthday in 1943 during his senior year of high school. As he entered adulthood, he stood 5 feet 10 inches tall weighing 135 pounds with brown hair and eyes and freckles. Still a student, he was living with his family at 2261 St. Vincent avenue in the north end of LaSalle.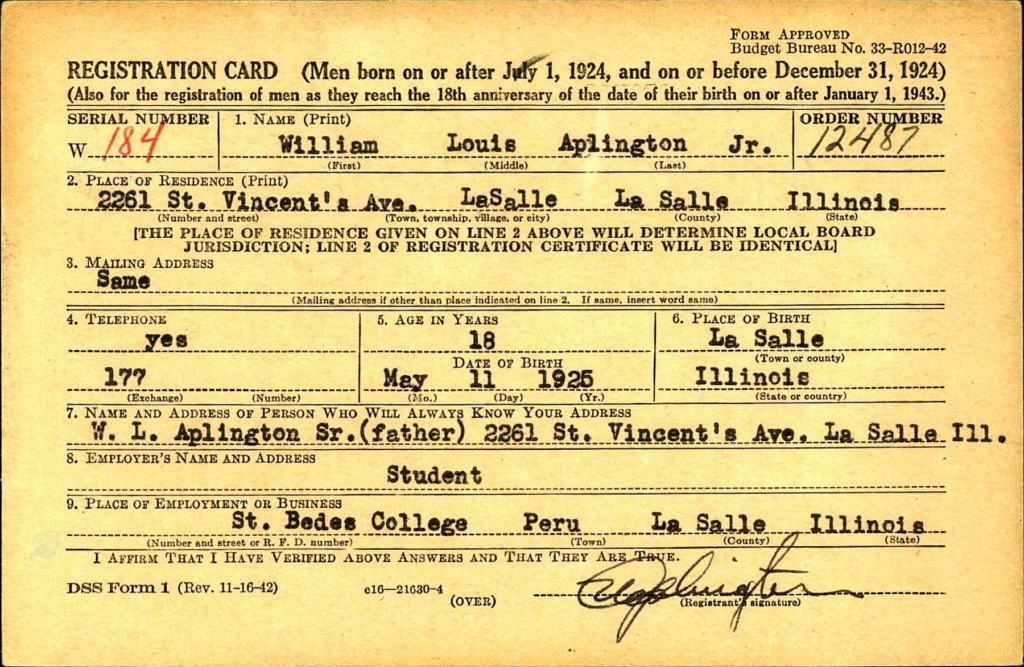 At some point after graduating, Bill followed his brothers James and Paul into war. He was assigned to the U.S. Army Air Forces 565th Bomber Squadron. They were part of the 389th Bombardment Group, also known as the "Sky Scorpions," which was stationed at Hethel in Norfolk, England. On March 24, 1945, Technical Sergeant Bill Aplington was one of a nine-man crew flying a B-24J bomber, serial no. 42-50779, as part of Operation Varsity—the "largest single-day airborne operation in history." Bill was 19 years old and flying his 30th mission serving as the radio operator for the crew.
As Bill's plane headed for Germany, they met up with 1,500 other American and 1,200 British aircraft all carrying a total of 17,000 soldiers. Upon converging, they "formed a column two-and-a-half hours long." Their combined mission was to "seize and hold high ground five miles north of Wesel, German, and to facilitate the ground action and establish a bridgehead."
As Bill and his crew neared Wesel, Germany, flying at an altitude of 200 feet, they were attacked by a German antiaircraft weapon also referred to as "flak." With three of their four engines lost and the ship on fire and engulfed in smoke, the pilot, 1st Lt. Robert V. Bloore, had to make a forced landing back of their lines. The plane landed on an ammunition dump near Sevelen, Germany. People at the site managed to assist the crew, but not all including Bill could be rescued due to the flames. The Bombardier, 2nd Lt. Donald F. Huelsman, was taken to the 108th Evacuation Hospital and lived even though he was burned and had a broken leg. He was later evacuated to the states as was co-pilot 2nd Lt. Donald Smith. One man, Staff Sergeant Jack E. Young, who had been in the nose turret made it out alive and returned to duty. The pilot, 1st Lt. Bloore, was recovered, but was badly burned and did not live.
William Louis "Bill" Aplington is memorialized on the Tablets of the Missing at the Epinal American Cemetery and Memorial, Epinal, Departement des Vosges, Lorraine, France. He was awarded the Air Medal with 3 Oak Leaf Clusters and the Purple Heart. He would have also received the following medals: Army Good Conduct Medal, American Campaign Medal, Europe/African/Middle Eastern Campaign Medal, and the World War II Victory Medal.
This story is part of the Stories Behind the Stars project (see www.storiesbehindthestars.org). This is a national effort of volunteers to write the stories of all 421,000+ of the US WWII fallen saved on Together We Served and Fold3. Can you help write these stories? These stories will be accessible via smartphone app at any war memorial or cemetery.
If you noticed anything erroneous in this profile or have additional information to contribute to it, please email feedback@storiesbehindthestars.org.
SBTS Historian: Pam Broviak
SBTSProject/Illinois/LaSalle
You can also access this story at the following sites:
Sources:
U.S., Headstone and Interment Records for U.S., Military Cemeteries on Foreign Soil, 1942-1949, Ancestry.
U.S., World War II Army Enlistment Records, 1938-1946, Ancestry.
"U.S., World War II Draft Cards Young Men, 1940-1947," Ancestry, William Louis Aplington Jr., Serial number 184, Order number 12487.