Fortunately with the help of the Poznan Marriage Project and microfilms from the Church of Latter Day Saints, I've finally been able to locate our Borowiak family in Poland. My husband's great grandfather, Frank Borowiak (1858-1925) immigrated from there sometime between 1879 and 1884. But we never really knew where exactly in Poland he was from. Based on some earlier research, we found his family initially living in Lemont, Ill., then moving to Minnesota between 1893 and 1896.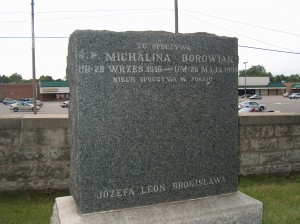 I think we even found the grave of his mother, Michalina Polcyn Borowiak although at the time, in 2004, we were not sure if Michalina was Frank's mother or not. But by finding Frank's baptismal record in the Polish records, we now know for a fact his mother's name was Michalina Polcyn. However, I have still not convinced myself this gravesite is Frank's mother's only because so far the dates do not match up. I have a little more research to do to see if I can tie them in any way. Her birthdates are close, but not exact.
As for Frank, there had also been many discrepancies in his birthdate between all the sources we found. But finally we now know his birthdate was Dec. 24, 1857. And we finally know for sure the name of his father, Valentine. This had also been a question because of the many different names used in all the sources we found.
Valentine and Michalina married on Nov. 8, 1840, in the Zon Parish in Poland. Valentine had been born in Pruchnowo on Jan 14, 1815 (could also be his baptismal date – only one date was given in the record) to Joseph and Marianna Borowiak. I am still researching the family so have not yet verified many other details other than Frank had at least two siblings: Rosalia born Feb. 15, 1842, and Joseph born 31 Jan 1845. Below are some of the entries for a few of these facts. I'll post more as I learn additional facts: